Blueberry Goat Cheese Log
If you've ever tried the Trader Joe's Blueberry Goat Cheese, you KNOW how delicious this blueberry and goat cheese combination is for snacking! Let's make your own Blueberry Goat Cheese Log right at home, shall we? Now you can have it anytime you want!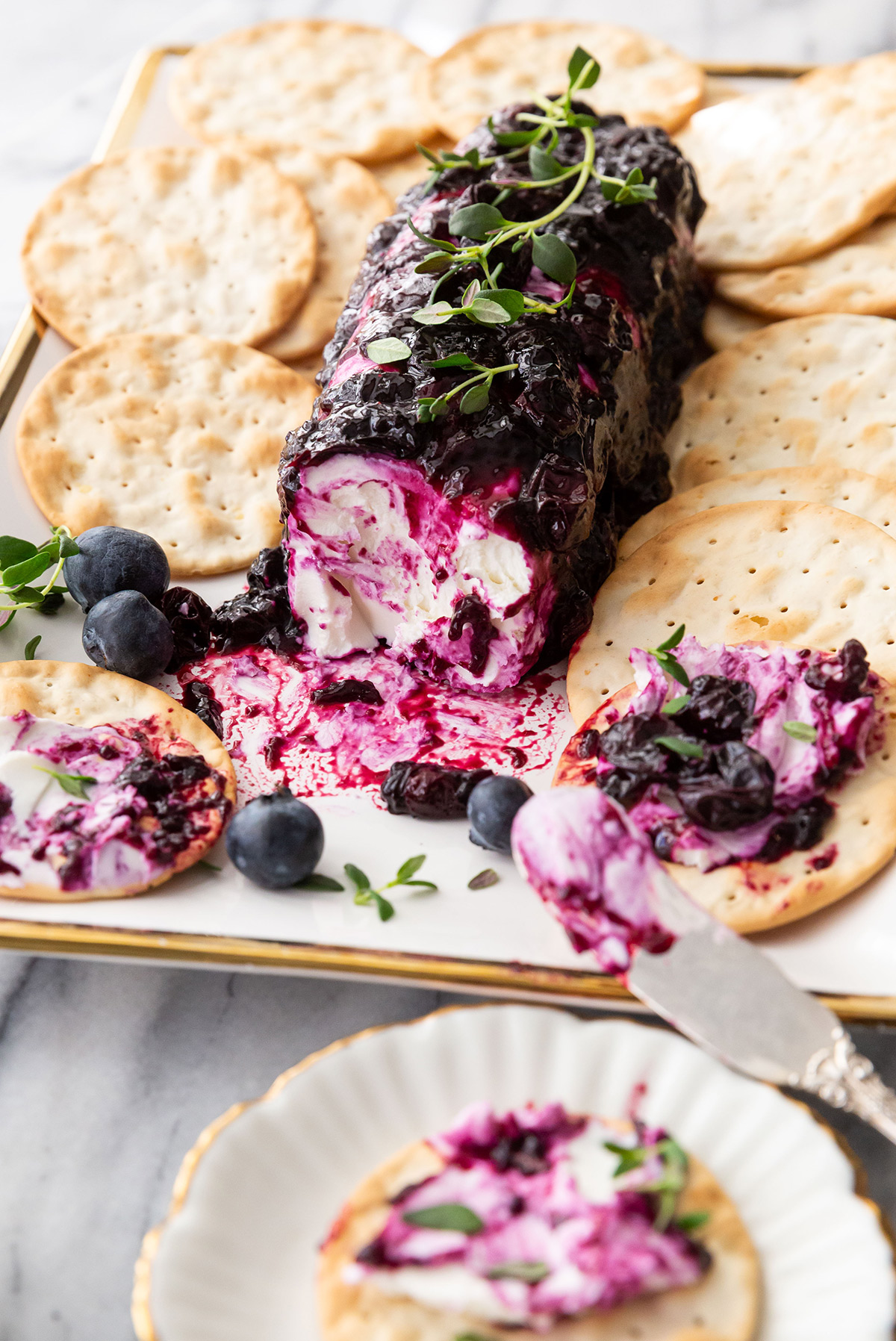 Ok, so technically it's known as the Blueberry Vanilla Chèvre at Trader Joe's, but it's delicious. I love an easy grab-and-go appetizer like a cheese log (and cheese balls!) but I wanted to make a homemade blueberry goat cheese log since I had lots of leftover fresh blueberries.
The result was INCREDIBLE! This blueberry goat cheese appetizer will knock your socks off… or your party guests. It's such a good appetizer recipe! And elegant too… read on for serving suggestions and wine pairings.
How to Make a Blueberry Goat Cheese Log
Make the Blueberry compote first. It's like a thick blueberry syrup that we pour over the goat cheese log and wrap it all up to chill. It's so delicious, I could eat it with a spoon!
Make Blueberry Compote
Trust me, this blueberry compote is foolproof. Let me walk you through how to make it.
Heat a small saucepan over medium.
Add in 1 cup of blueberries, a tablespoon of fresh lemon juice, lemon zest, a pinch of salt, and 2 tablespoons of honey.
Stir that up for about 5 to 6 minutes, the blueberries will burst, soften and you'll be left with a thick syrup among the blueberries. Perfection!
Remove from heat, stir in 1 teaspoon of fresh thyme, chopped. You can absolutely substitute in fresh basil or fresh rosemary if you prefer! Use what you have!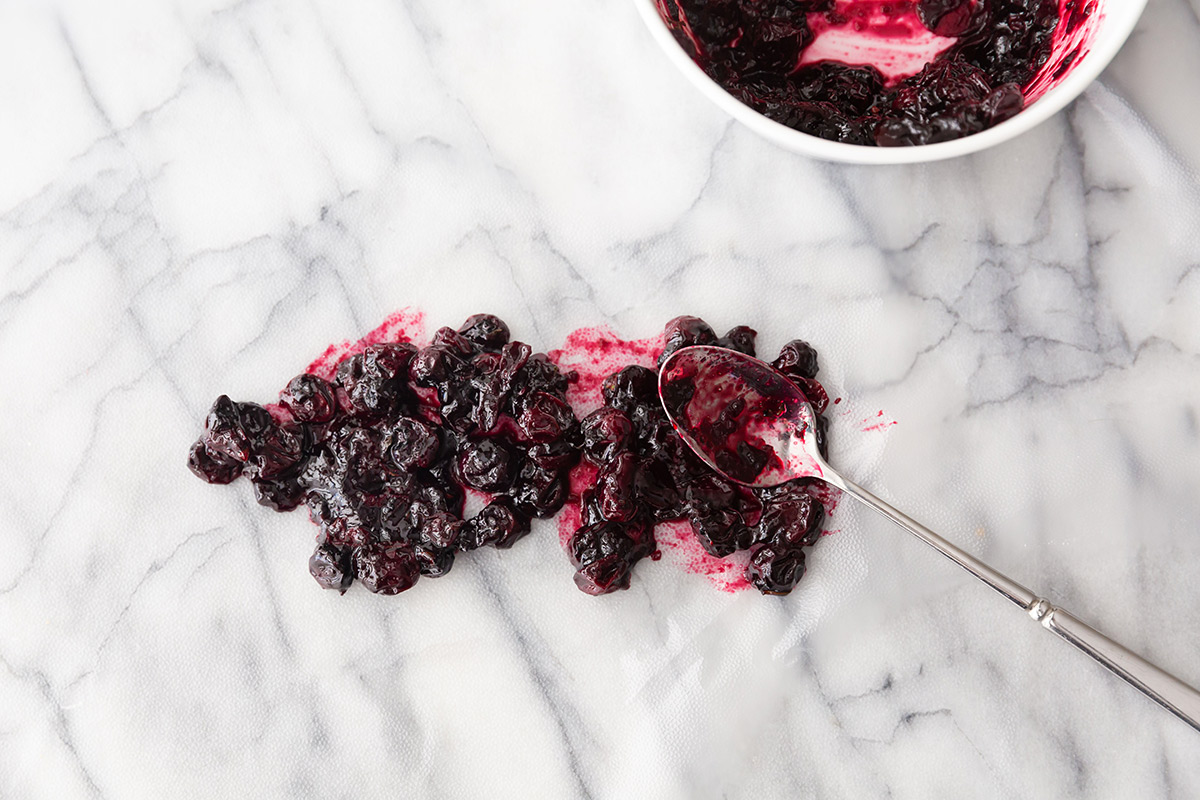 Rolling Goat Cheese Log in Blueberry Compote
Now for the fun part! Once your blueberry mixture is chilled slightly (you just don't want it HOT), then lay out a sheet of plastic wrap. I used press 'n seal. Either works well.
Add on about 1/3 to 1/2 of the blueberry compote mixture. Spread it out in a log shape right on the plastic wrap.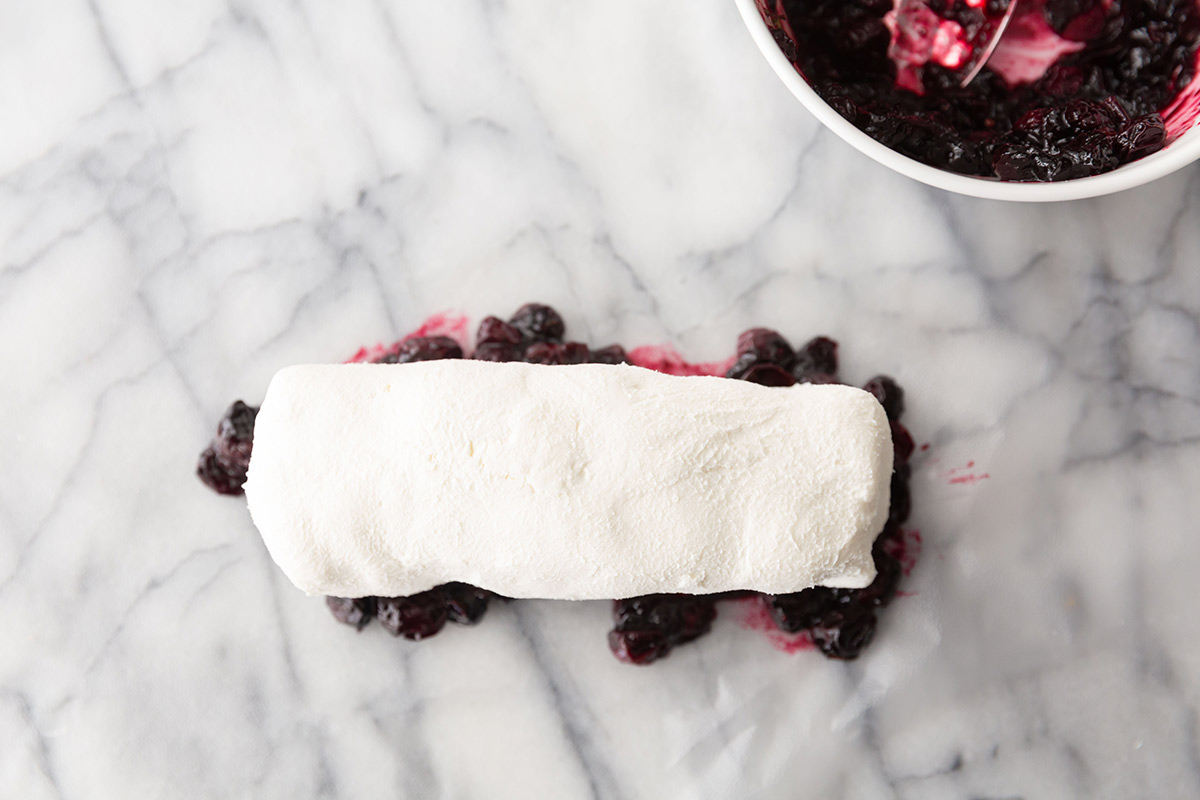 Next is to set your goat cheese log right on top of that blueberry compote. I recommend about an 8 ounce log of goat cheese (chèvre). I had two small 4 oz logs so I pressed them together to make one larger one.
Spoon the remaining blueberry sauce compote over top the goat cheese log.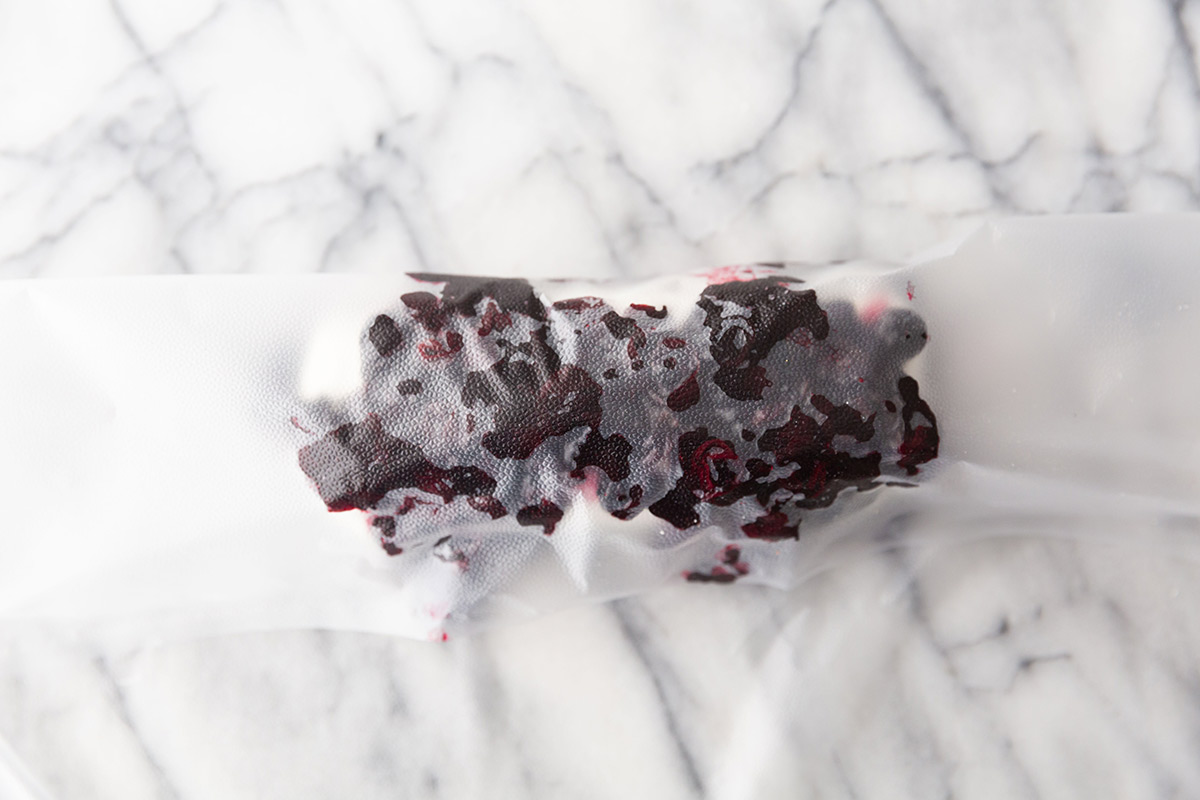 Wrap your plastic wrap (or press 'n seal) sheet over the blueberry goat cheese log. Roll and wrap it until it's tightly sealed. Almost done! I recommend chilling your blueberry goat cheese for at least an hour. This helps the blueberry compote to chill up and sort of blend into the goat cheese. The result is DELICIOUS.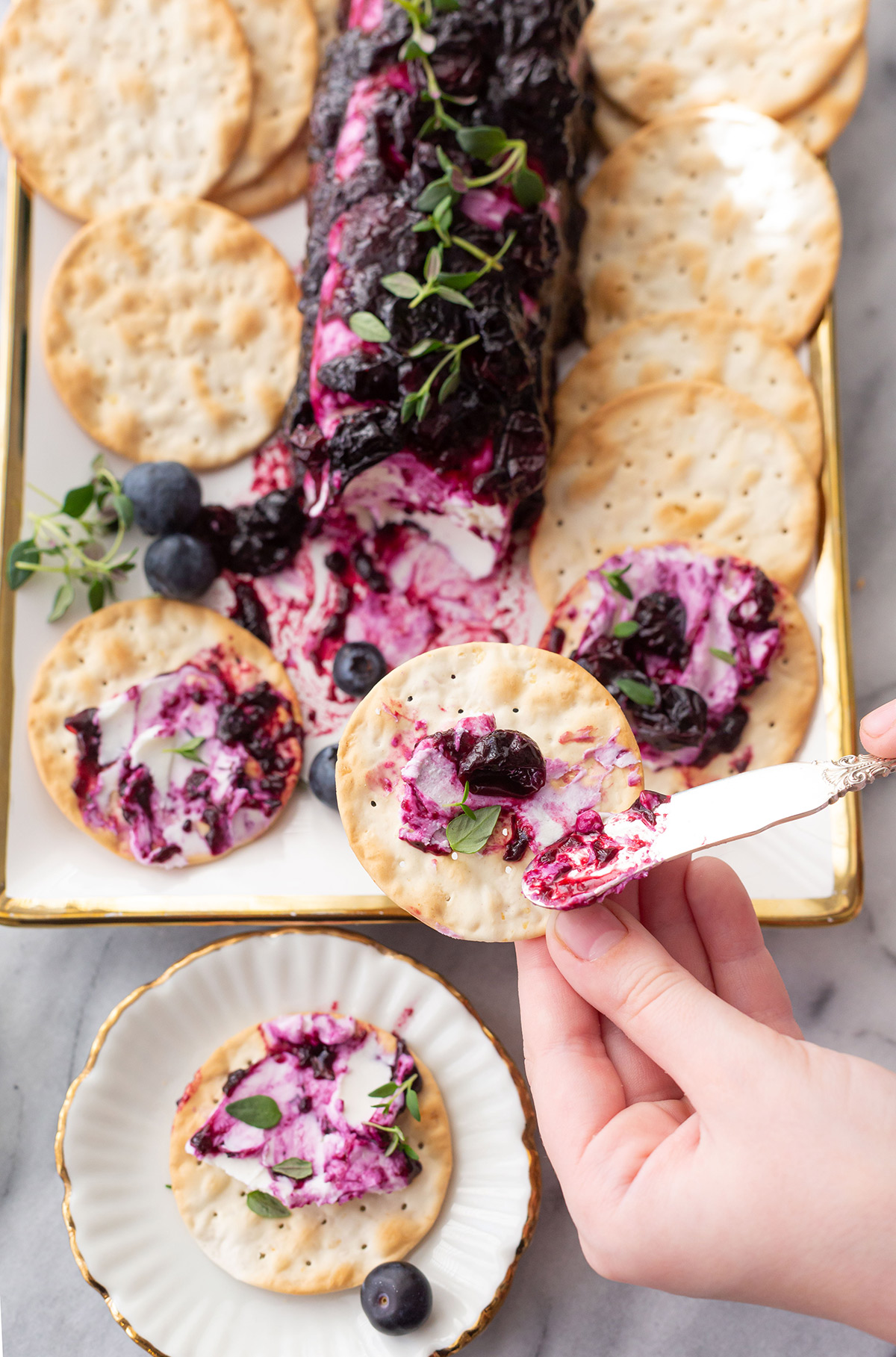 I like to garnish my blueberry goat cheese log with extra fresh herbs like thyme. The flavor is great and that extra pop of green is so pretty with the purple from the blueberries.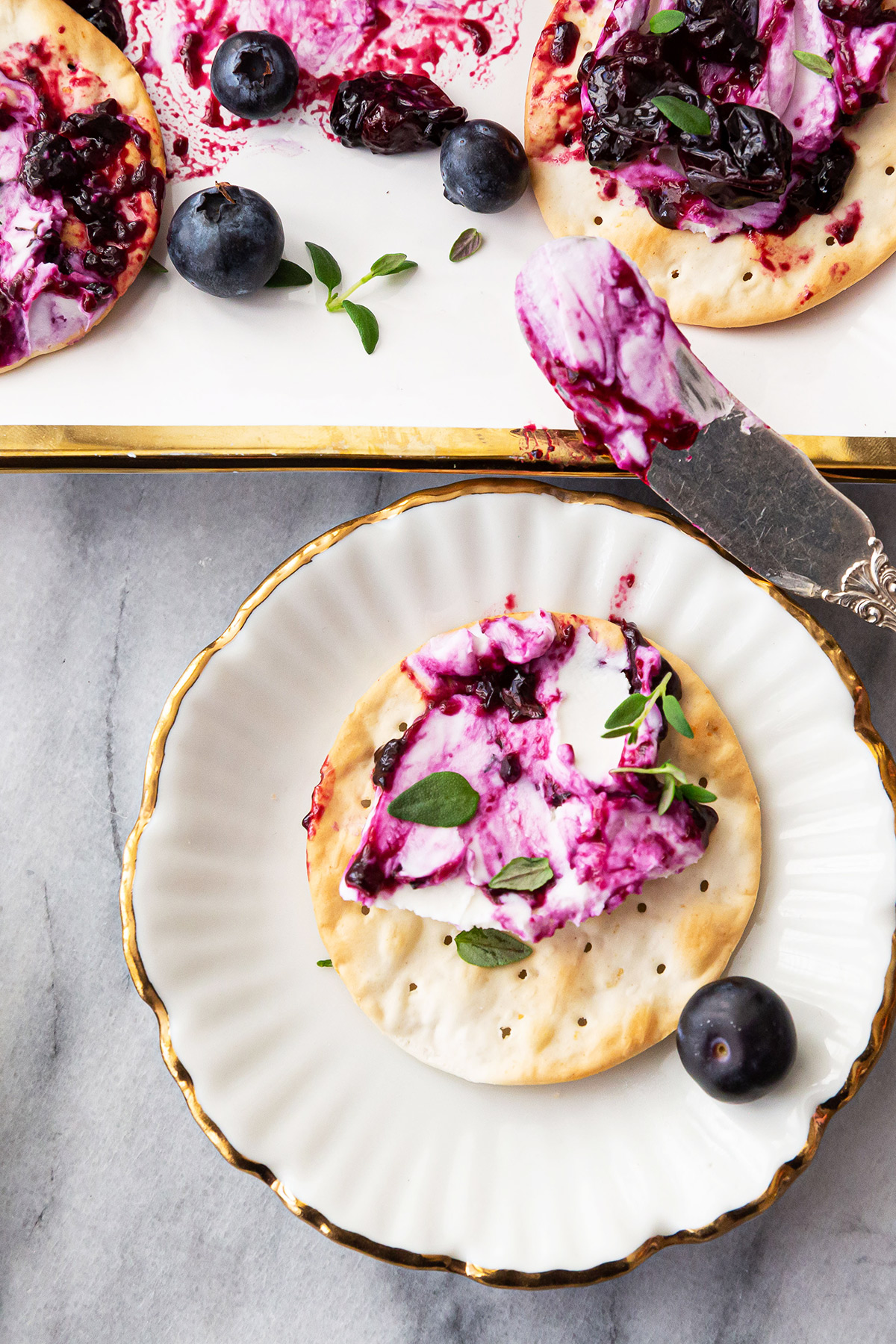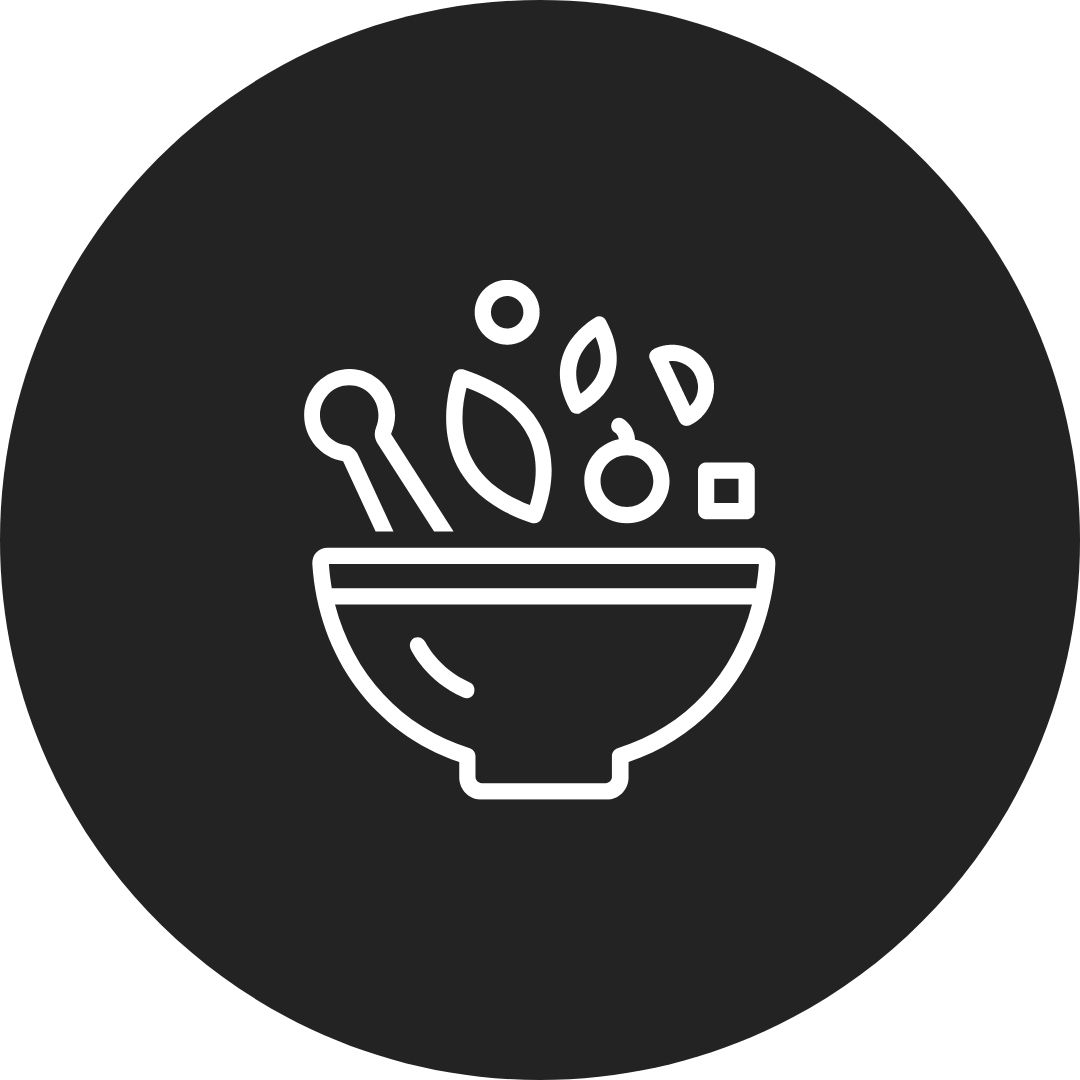 RECIPE FUN FACT: Did you know that unlike cow's milk cheese varieties which grow stronger and more pungent in flavor as they mature, goat's milk cheeses get milder and a little sweeter as they age.
How to Serve Blueberry Goat Cheese
Plate your blueberry goat cheese log on a pretty platter or serving tray. Surround it with your favorite crackers, toast crisps, or crostini. I love water crackers with this appetizer. They're sturdy so it's easy to spread on the blueberry and goat cheese combination!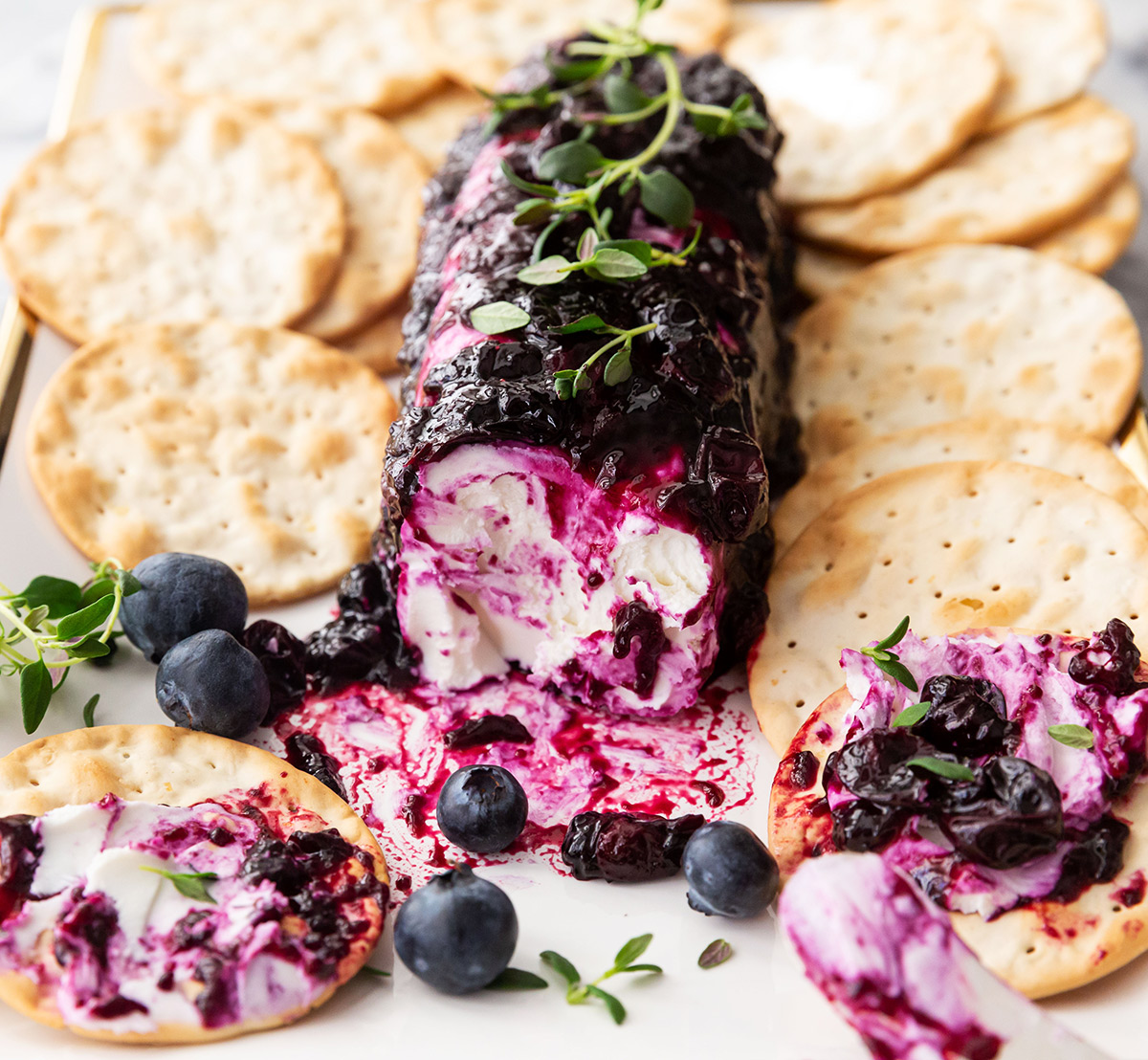 What to Serve with a Goat Cheese Log
Hosting a party and not sure what else to add to your spread besides your goat cheese log? I've got you covered! Whether it's a cocktail party or a simple movie night charcuterie spread, here are some suggestions..
Charcuterie Board of meats (prosciutto, salami), nuts (almonds, pecans), Fruits (berries, pineapple), Crackers, Crostini, Spreads and Dips (fig jam, honey)
Bread Toast Cups (fill these with any of your favorite dips or spreads, these are so pretty on any appetizer tray)
Chilled Shrimp (this is the best marinated shrimp recipe!)
Puff Pastry Parmesan Twists (elegant and simple!)
As for drinks, I suggest a Pinot Noir or Sauvignon Blanc to pair with your blueberry goat cheese. They both have the perfect blend to balance the sweet and tangy flavor of the berries and cheese.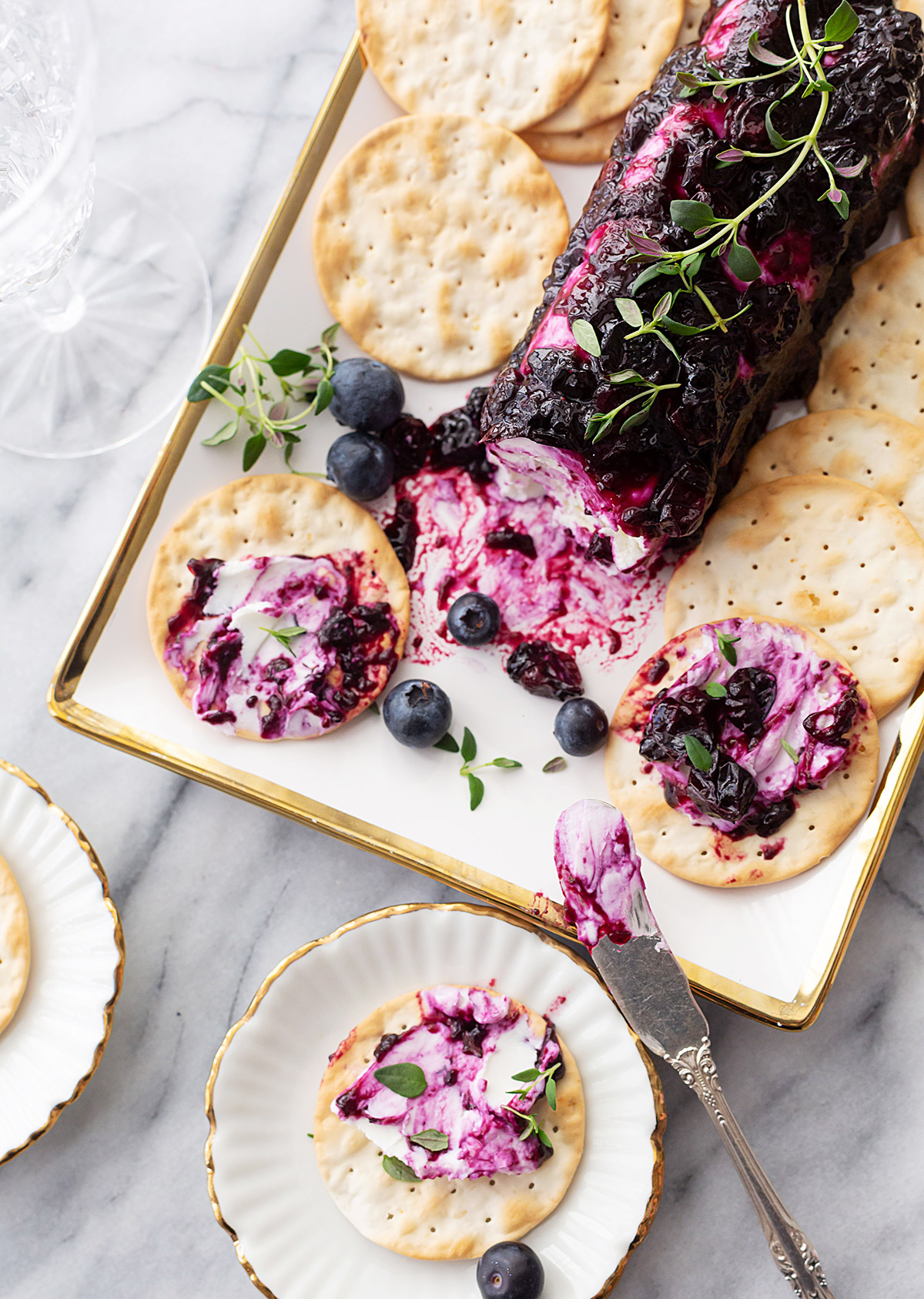 Expert Tips & Recipe Notes
If you wanted to add that vanilla flavor in like the Trader Joe's blueberry vanilla goat cheese, then I suggest stirring in 1 teaspoon of vanilla extract to your blueberry compote after it's removed from the heat.
Can I use another berry besides blueberries?
Sure! This will work well with raspberries and strawberries too!
How long do I need to chill my goat cheese?
I suggest at least an hour after wrapping it up in the blueberry compote. I find it easiest to prep the day before serving. This is an easy appetizer that you can make in advance so you have on less hostess duty to attend to! Delicious goat cheese appetizer? DONE!
How long does blueberry goat cheese last?
Keep your blueberry goat cheese log securely and tightly wrapped in the refrigerator and it will last up to one week. You can freeze blueberry goat cheese if you wrap it very tightly multiple times in plastic wrap and aluminum foil, then place in a freezer plastic bag for up to 3 months. Place in the refrigerator for 24 hours to thaw.
Before serving goat cheese that's been well chilled or previously frozen, allow it to sit out for about 30 minutes before serving so it's easier to slice through with a cheese spreader.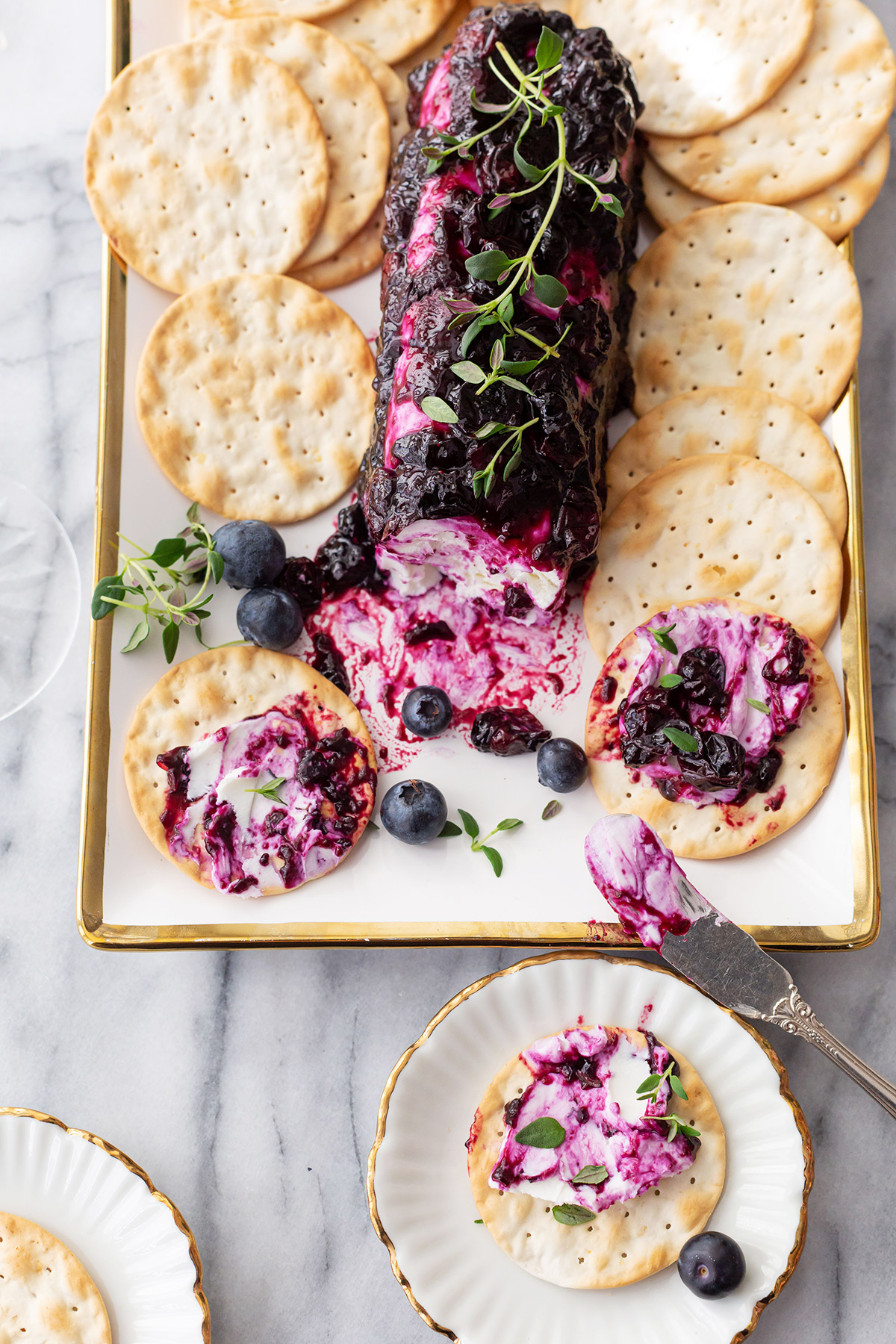 If you want an impressive appetizer to serve friends and family for a special occasion, this blueberry goat cheese will do the trick! It's easy, delicious and absolutely beautiful served on a pretty platter!
For even more party appetizers…try my other favorites: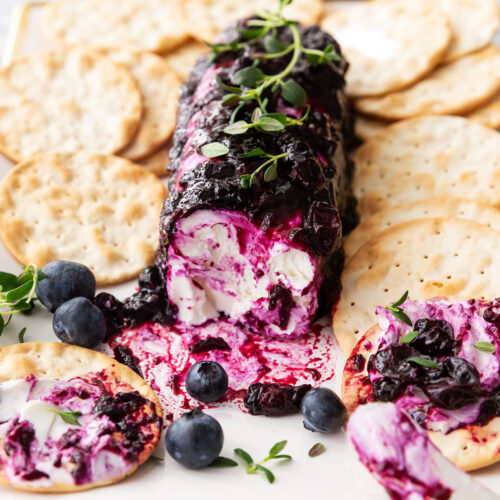 Blueberry Goat Cheese Log
A sweet and savory goat cheese appetizer, this Blueberry Goat Cheese Log is super easy and makes an elegant party appetizer!
Ingredients
1

cup

blueberries

1

tsp

lemon zest

1

tbsp

lemon juice

1

pinch

salt

2

tbsp

honey

1

tsp

fresh thyme

diced

8

ounces

goat cheese

"chèvre"
Instructions
Prep the Blueberry Topping
In a saucepan over medium heat, add blueberries, lemon juice, lemon zest, salt, and honey. Stir with a wooden spoon over medium heat for 5 to 6 minutes. Blueberries will burst and a sauce will form, it should be thick.

Remove from heat and stir in diced thyme. Cover and allow to chill in the refrigerator for around 10-20 minutes.

Once cooled off, lay out a sheet of plastic wrap. Spoon about 1/3 to 1/2 of the blueberry compote mixture onto the plastic wrap. Set your goat cheese log on top of the blueberries.

Spread the remainder of the blueberry mixture on top of the goat cheese log. Wrap tightly in the plastic wrap, spreading the blueberries around evenly so it fully covers the goat cheese log.

Refrigerate about an hour or until ready to serve.

Serve with your favorite crackers!

Optional: Garnish with fresh thyme or other herbs!
Calories:
136
kcal
Carbohydrates:
10
g
Protein:
7
g
Fat:
8
g
Saturated Fat:
6
g
Polyunsaturated Fat:
1
g
Monounsaturated Fat:
2
g
Cholesterol:
17
mg
Sodium:
146
mg
Potassium:
38
mg
Fiber:
1
g
Sugar:
9
g
Vitamin A:
420
IU
Vitamin C:
4
mg
Calcium:
57
mg
Iron:
1
mg