Crispy wonton chips are so easy to make right at home in your air fryer! Serve up this easy snack with your favorite dips, spreads and salsa! Just 3 ingredients!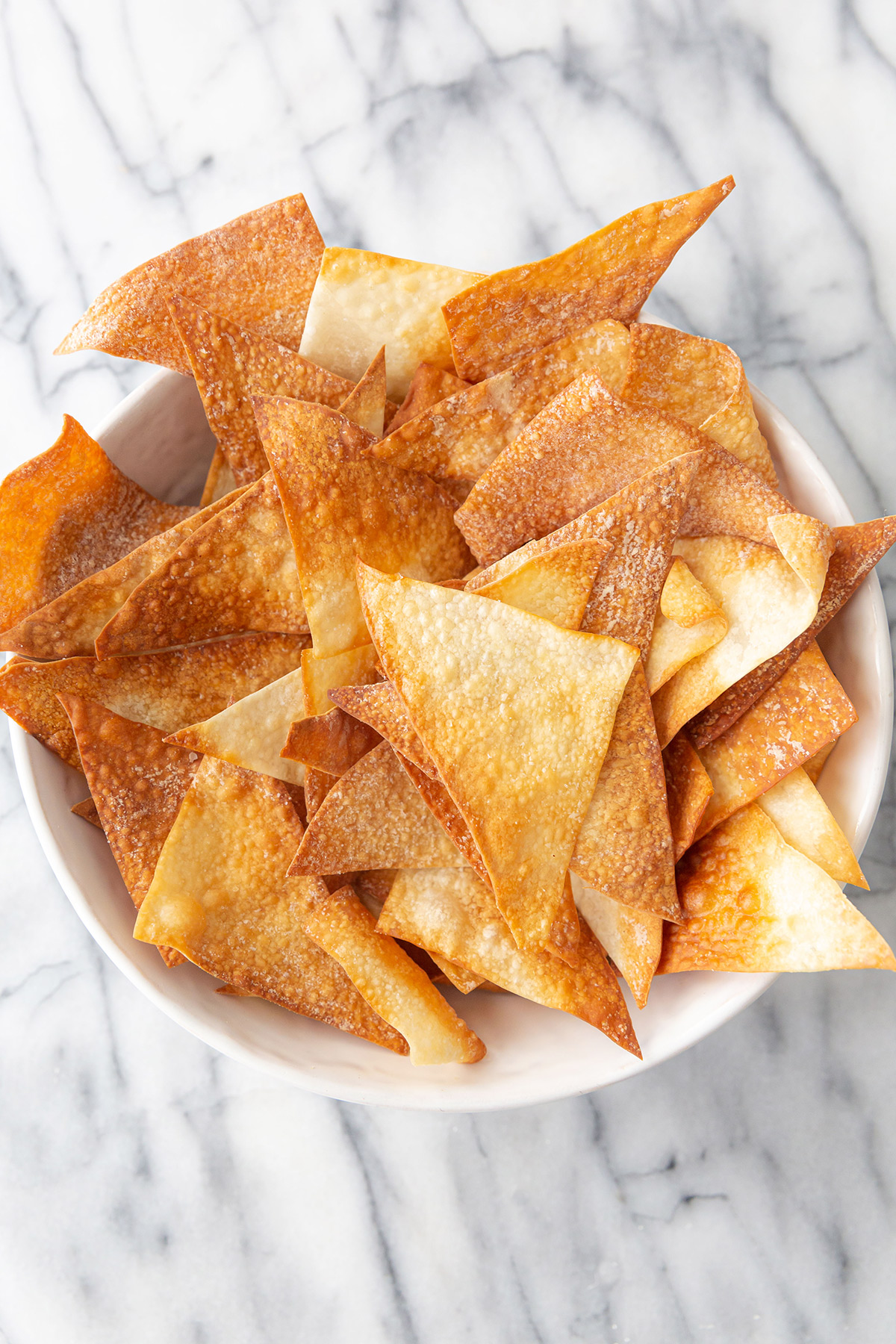 These golden brown and crispy wonton chips remind me of tortilla chips and a light and crispy cracker, they're like the best of both worlds! Fried wonton chips are super crunchy and crisp up in under 5 minutes for the fastest homemade snack you can enjoy anytime you want!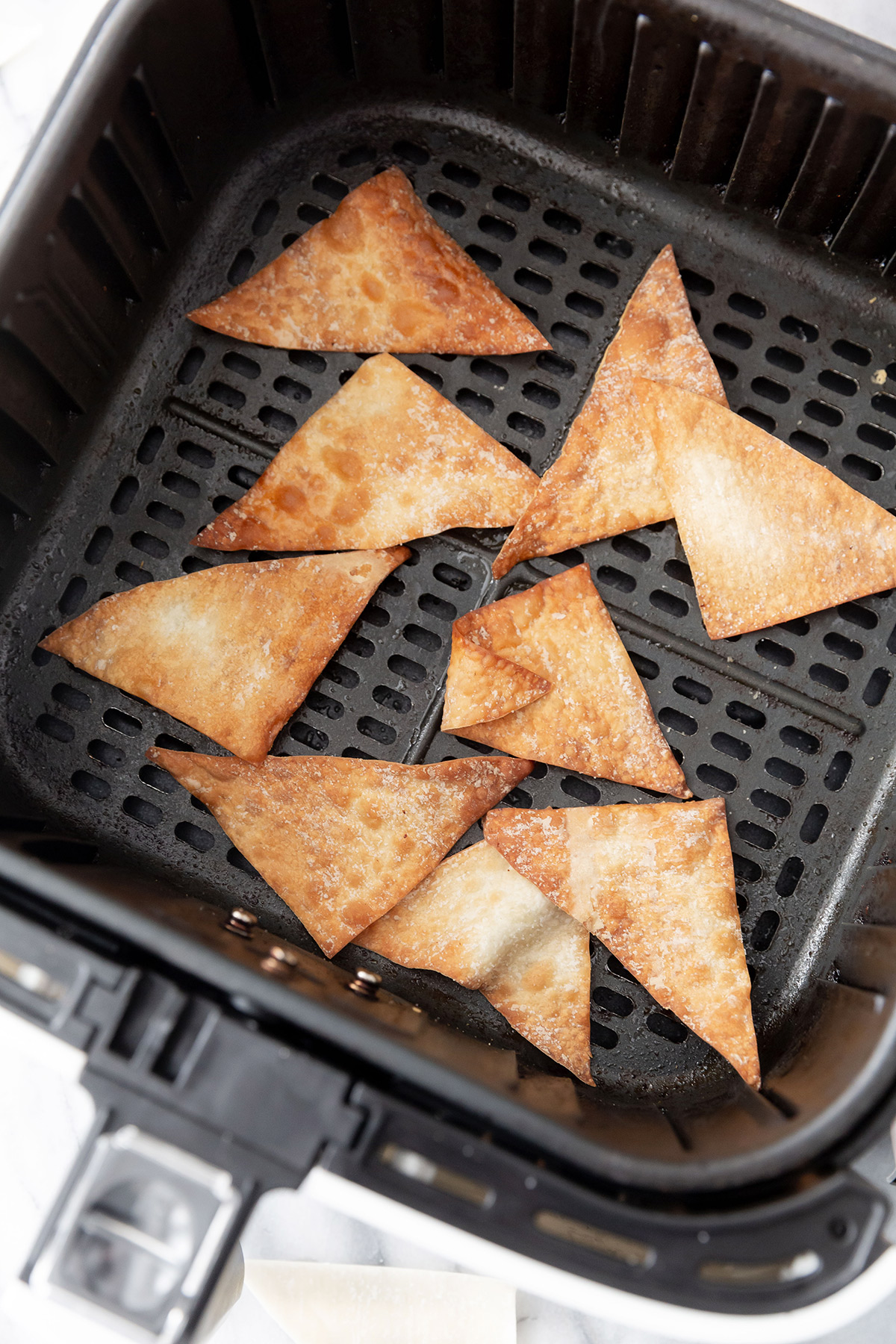 Wonton strips are often served at Chinese restaurants and enjoyed on top of salads and soups. They have the best crunch! This chip version of fried wonton strips is a larger triangular version of that favorite take-out snack that you can make at home without all the added oil from frying. Thank you, Air Fryer!
Like I said, traditional wonton strips and the wonton wrappers used to make crab rangoon are typically fried.
Skip the fried version, make your own at home, and keep things lighter by using an air fryer to make your own crispy wonton chips.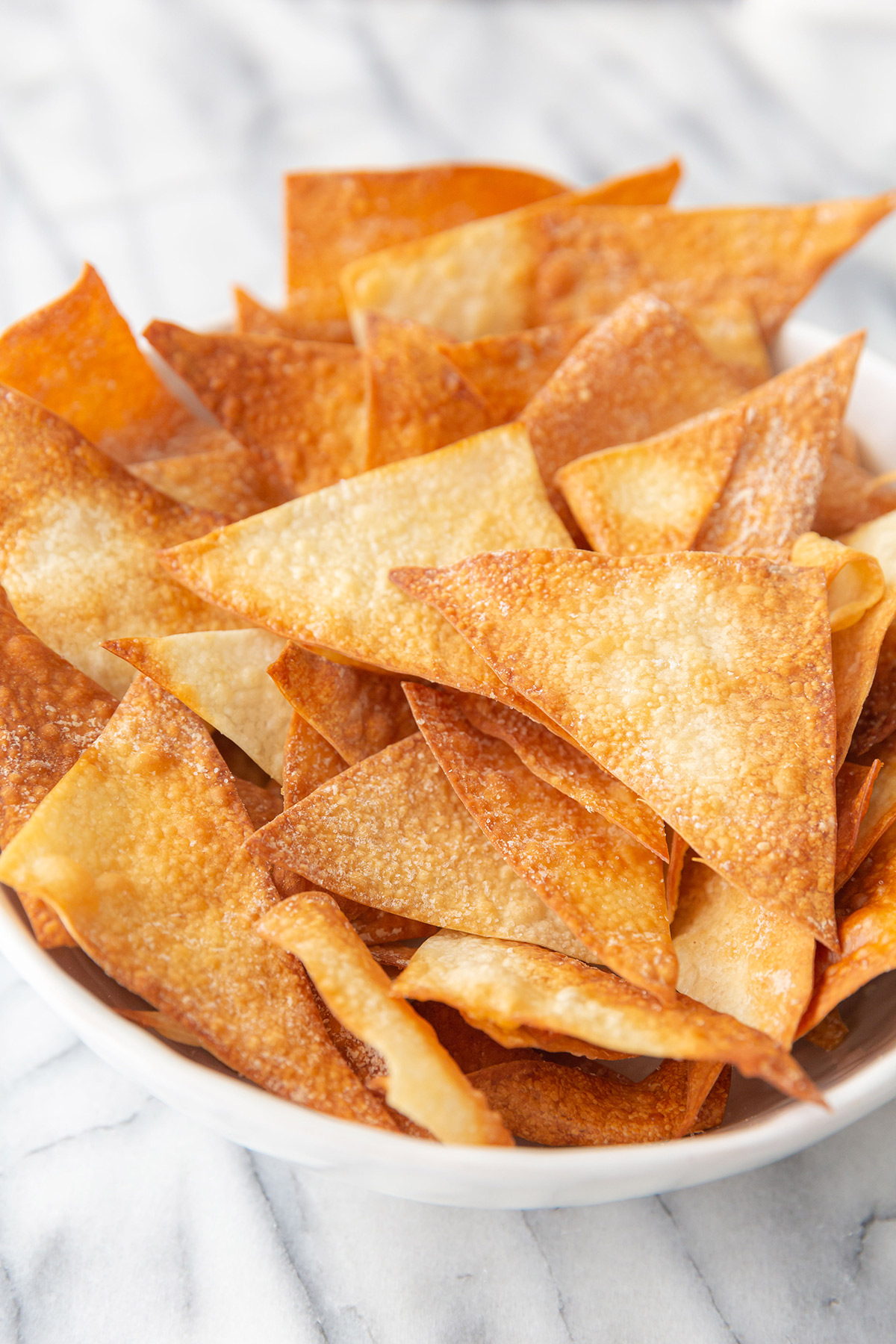 If you don't own an air fryer yet, what are you waiting for? They will change your kitchen life, trust me! I use mine ALL THE TIME. This is the air fryer I have, it's fabulous and the perfect size. Plus, I can make all my favorite snacks without deep frying them.
Let's go over how to make these crispy wontons! It's SO easy!
How to Make Air Fried Wonton Chips
Step 1: Prep Ingredients
All you need to make these crispy wonton chips (your new FAVE snack) is 3 ingredients.
Where to Find Wonton Wrappers
First up, the most important, is a package of wonton wraps. You can find wonton wrappers in almost any local grocery store (and also at Asian markets), typically in the produce section next to refrigerated salad dressings.
You can also grab egg roll wrappers (used to make egg rolls) if that's all you can find, they are almost the same thing as wonton wrappers, just larger so cut them down smaller.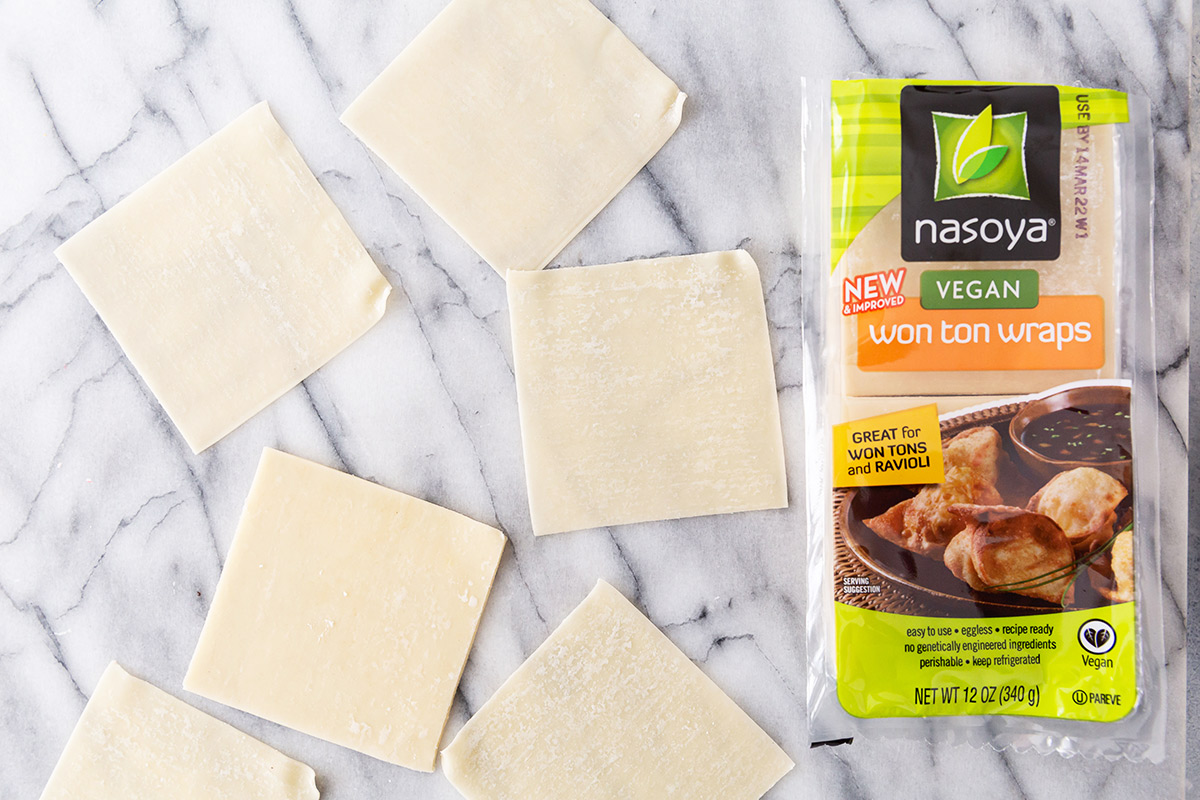 The Best Oil to Use for Air Fried Wonton Chips
Grab your favorite olive oil spray (I used PAM nonstick olive oil spray) but you can also use a pastry brush and your favorite extra virgin olive oil!
Note: You can also use vegetable oil cooking spray, avocado oil spray, or sesame oil too. Just use a tiny amount, that's all that you need!
Finish with Sea Salt
Sea Salt! Super simple, just sprinkle as much or little as you like. Add it on before you air fry these wonton chips so it will stick to the chip.
Step 2: Cut Wrappers into Triangles
I use my kitchen shears (you can also use a sharp knife) to cut each wonton wrap square on the diagonal to create a triangular chip shape.
You can cut them into any shape you like, but I think the triangle reminds me the most of a chip. Save any leftover wonton wrappers back in the refrigerator for later!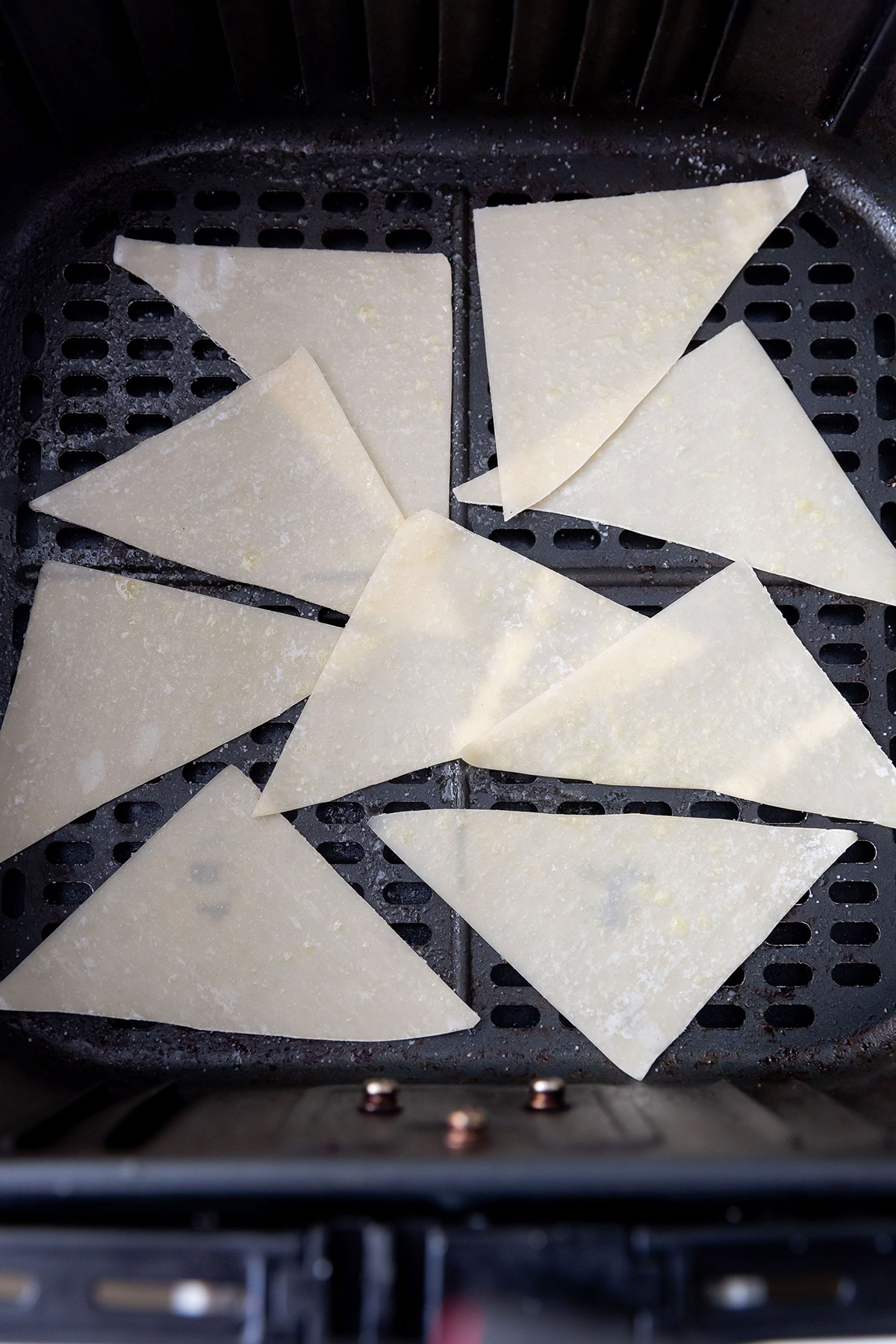 Step 3: Spray with Olive Oil and Air Fry
The FUN PART!
Lay your wonton chips in a single layer in the bottom of your air fryer basket. I just spray the top side with olive oil, it's all that's needed!
Sprinkle with sea salt and air fryer at 350 degrees for 3 to 4 minutes.
Pull the basket out and give it a good shake about halfway through. You want a golden color for the perfect crunchy wontons.
Do you need to preheat your air fryer? Not really. Your first batch might take the full 4 minutes and your second batch might just take 3, but it doesn't make a huge difference. Just keep an eye on them and pull them when they're golden.
They'll cool down relatively quickly but they don't lose their crispiness when served at room temperature!
Air Fryer Wonton Chip Flavor Variations
Stick to simply sea salt for the perfect crunchy and salty snack or change it up! You can truly add any seasoning or flavor combo your heart desires. Here are a few to try out!
Everything Bagel Seasoning
Grated Parmesan Cheese, Cheddar Cheese, etc.
Garlic Powder
Onion Powder
Chinese 5 Spice
Cayenne Pepper
I know you'll love this air fryer version of wonton chips!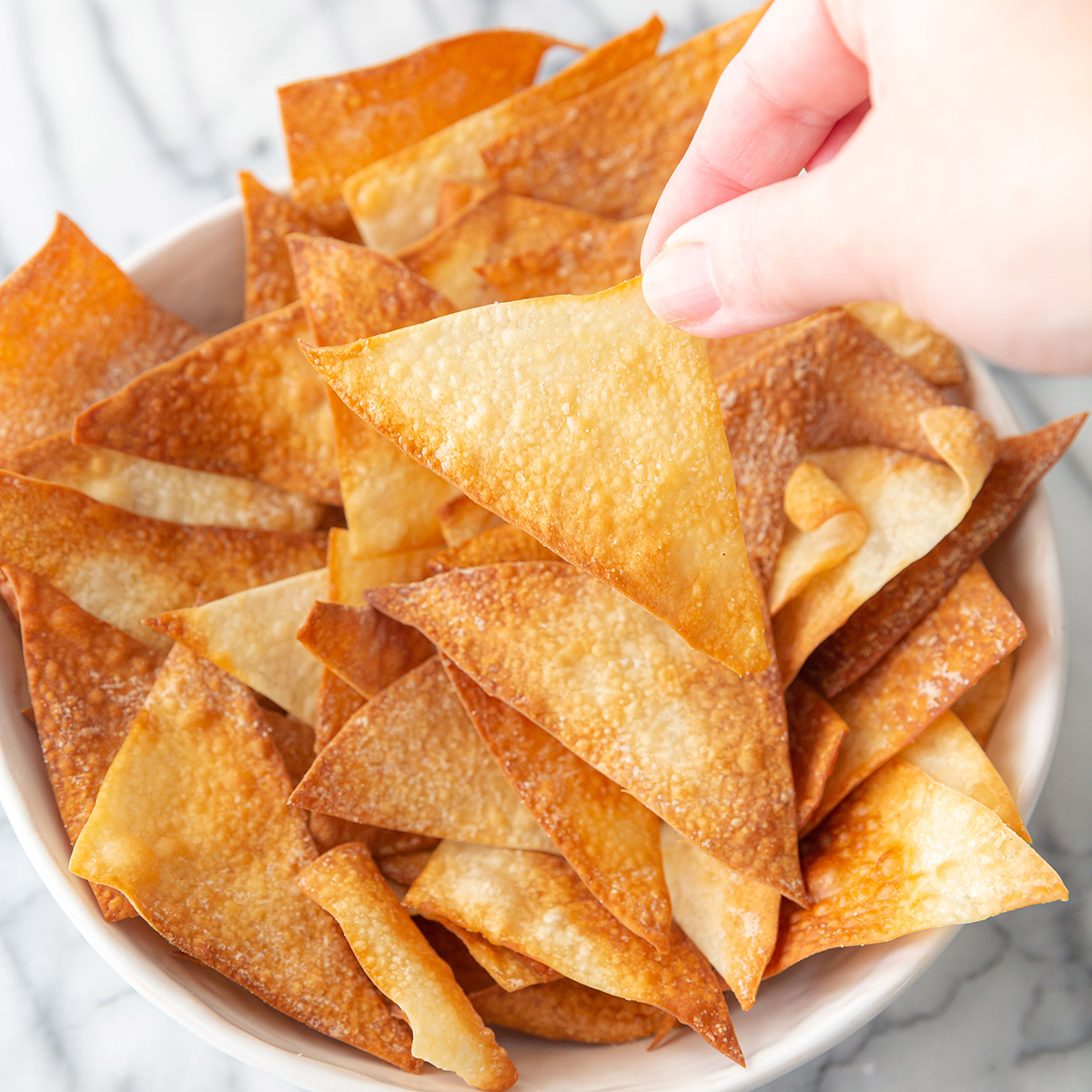 What to Serve with Fried Wonton Chips
Serve these air fryer wonton chips with just about anything you'd serve with tortilla chips or crackers! Or serve them in a large bowl, they're a delicious appetizer on their own!
Crab Cheese Ball (my personal fave – like crab rangoon dip)
Add to a Cheese Board or Charcuterie Board
Spinach and Artichoke Dip
Ranch Oyster Crackers (must try!)
Sweet Chili Sauce
On their own! These salty and crispy air fried wonton chips are the perfect snack to enjoy on their own!
All of the crispy flavor without the added oil, you will LOVE this easy snack. Air fryer wonton strips are the perfect appetizer that's ready in under 10 minutes and fabulous for game days, parties, and anytime you're craving a salty snack!
Want another air fryer appetizer recipe? Try my Air Fryer Jalapeno Poppers!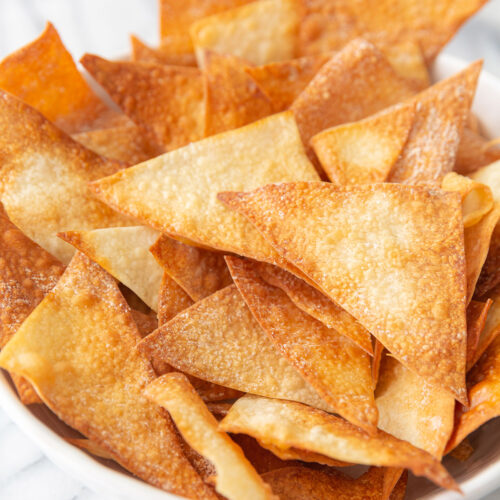 Air Fryer Wonton Chips
Crisp up wonton wrappers to make your own Air Fryer Wonton Chips right at home! These are so delicious with dips, spreads and salsas!
Ingredients
25

wonton wrappers

2

tbsp

extra virgin olive oil

or nonstick baking spray (olive oil)

1

tsp

sea salt

(more or less to taste)
Instructions
Cut square wonton wrappers in half diagonally to make 50 triangles. Working in small batches (about 8 to 10 at a time), place wonton wrapper triangles in a flat layer on the bottom of your air fryer.

Spray wonton wrappers with olive oil spray or use a pastry brush to lightly coat the wrappers with olive oil. Sprinkle with sea salt.

Air fryer at 350°F for 3 to 4 minutes, pulling basket out after 2 minutes to shake once. Wonton chips should be lightly golden and crispy!

Remove from air fryer, allow to cool and enjoy! Store leftover wonton chips in an airtight bag.
Notes
Spice it up and try out new seasonings like cracked black pepper, everything bagel seasoning or sprinkled parmesan cheese. Just add seasonings after coating with olive oil and air fry as directed! 
Calories:
159
kcal
Carbohydrates:
22
g
Protein:
4
g
Fat:
6
g
Saturated Fat:
1
g
Polyunsaturated Fat:
1
g
Monounsaturated Fat:
4
g
Cholesterol:
3
mg
Sodium:
680
mg
Potassium:
31
mg
Fiber:
1
g
Vitamin A:
5
IU
Calcium:
18
mg
Iron:
1
mg