Party Toast Cups for Appetizers
These crispy little toast cups are the perfect party appetizer! Top them with delicious fillings like pimento cheese, spinach dip, crab dip, and more! The best part, these toast cups are SO simple to make!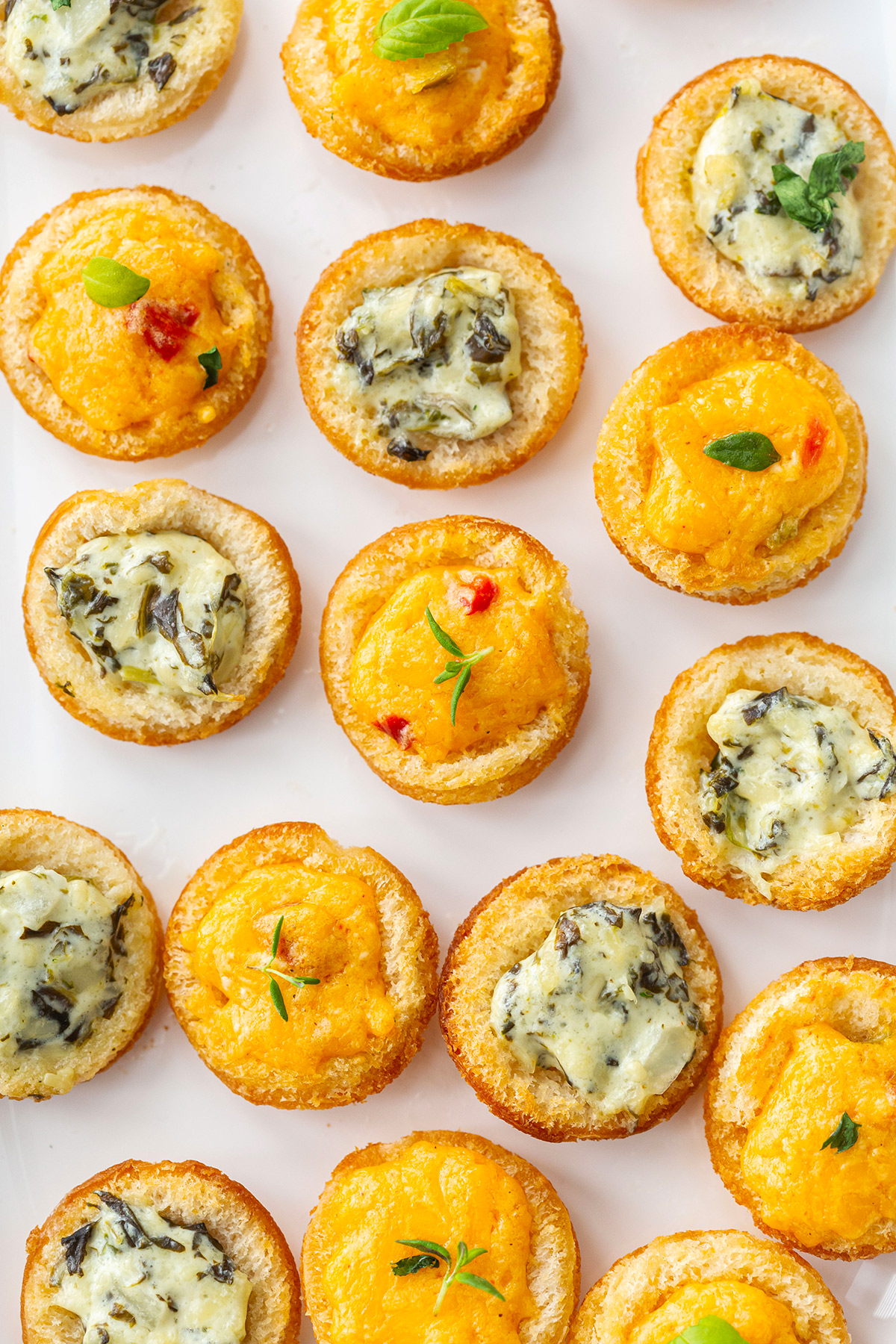 My Mom, the quintessential Southern hostess, has been making these tiny toast cups for decades. Prep ahead, freeze them, and then serve them up with a variety of fillings and watches them quickly disappear at parties all year long! Her personal favorite filling? Jalapeno pimento cheese!
Toast cups might look simple, made with just sandwich bread and a little butter, but they are twice baked and turn out so crispy. I equate them to an alternative to phyllo cups or crispy wonton cups. They all make the perfect little appetizer in a cup.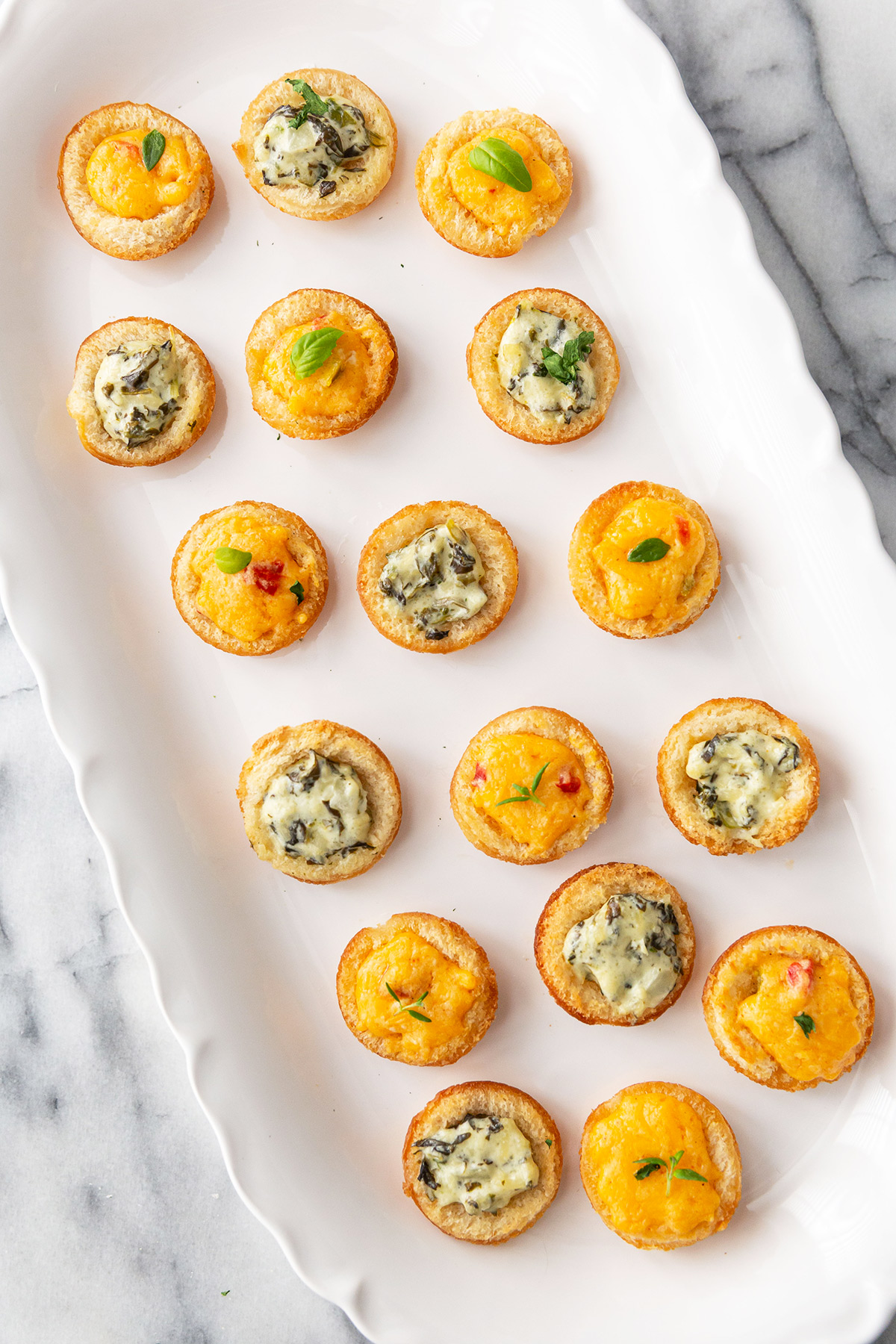 I'm excited to show you how to make these bite sized appetizers too. All you need is sandwich bread, butter and a mini muffin pan.
What You'll Need to Make Toast Cups
How to Make Party Toast Cups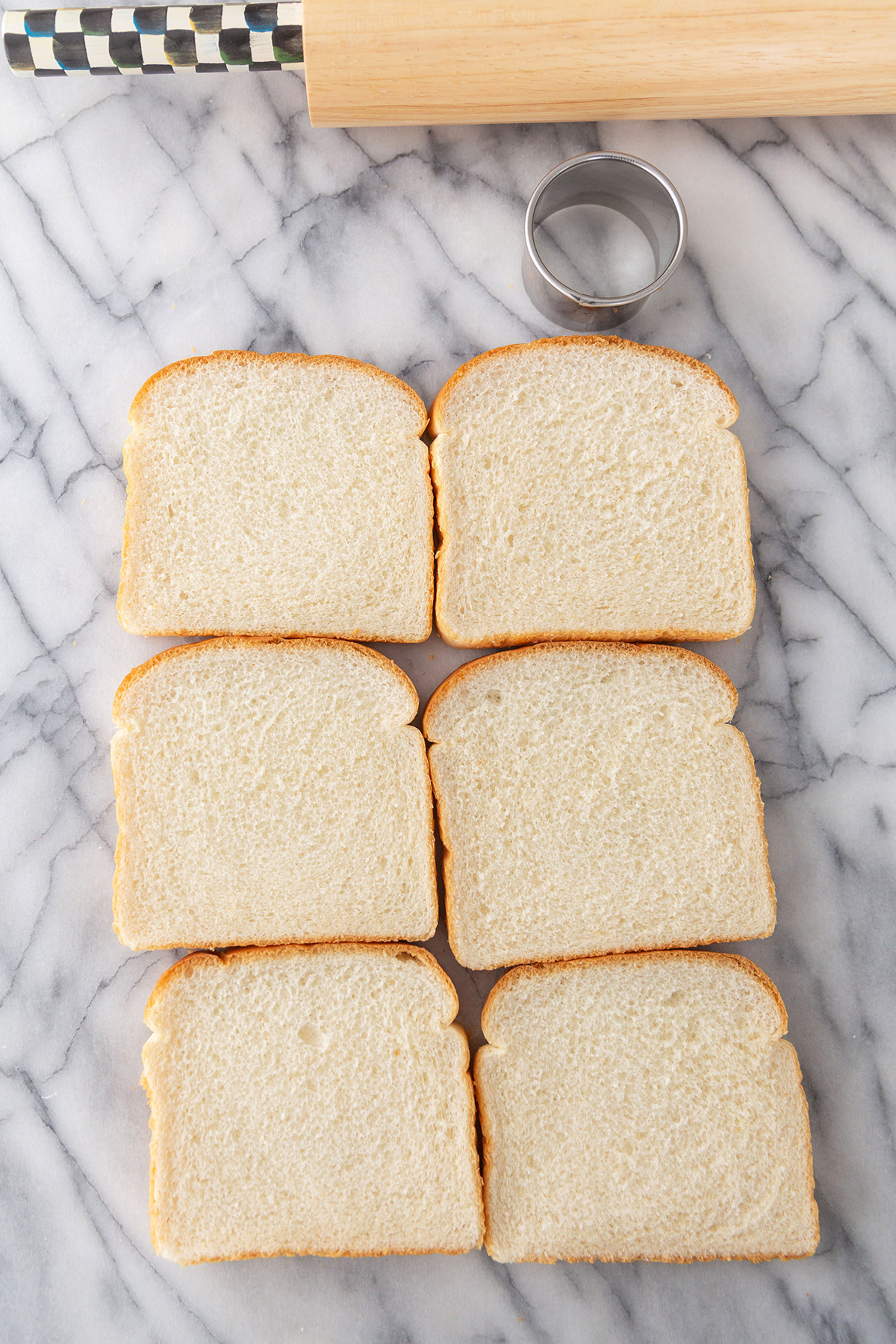 STEP 1: Lay out several slices of your favorite sandwich bread. A basic white sandwich bread works well. You could use wheat or any variety you prefer.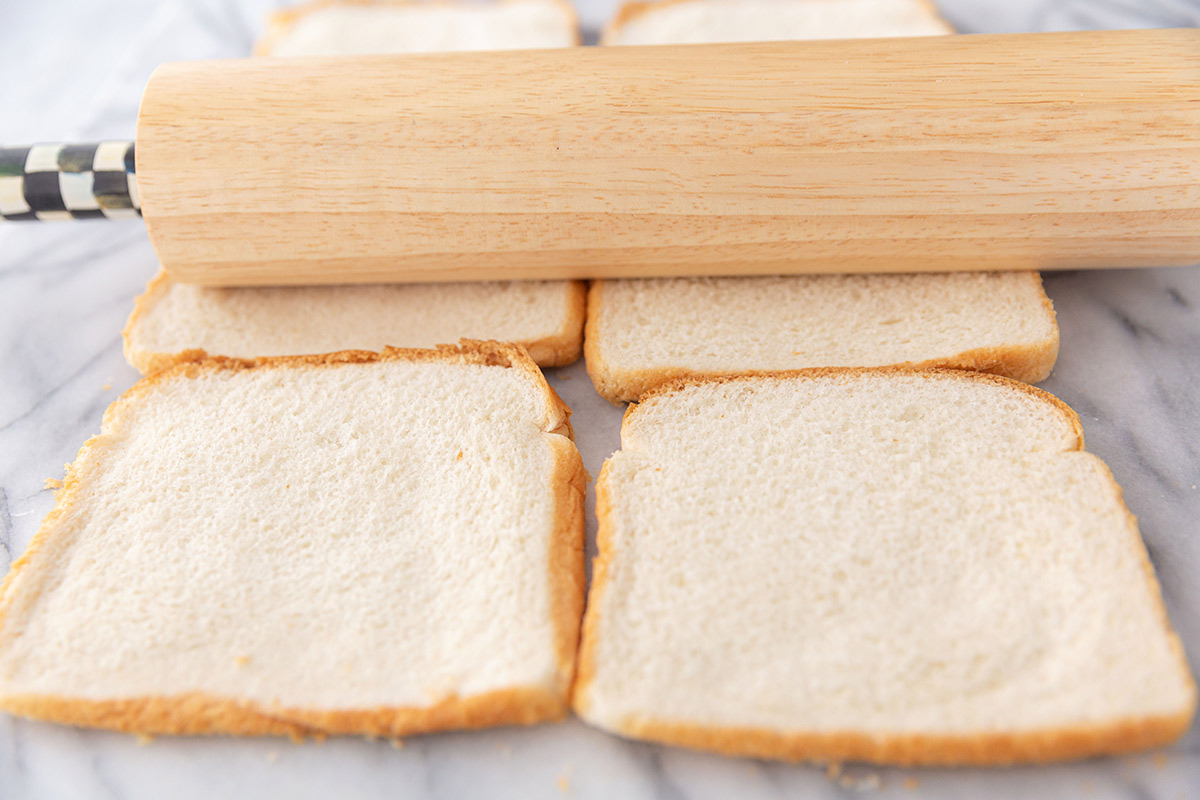 STEP 2: Use a rolling pin to press down across the slices of bread to flatten them down.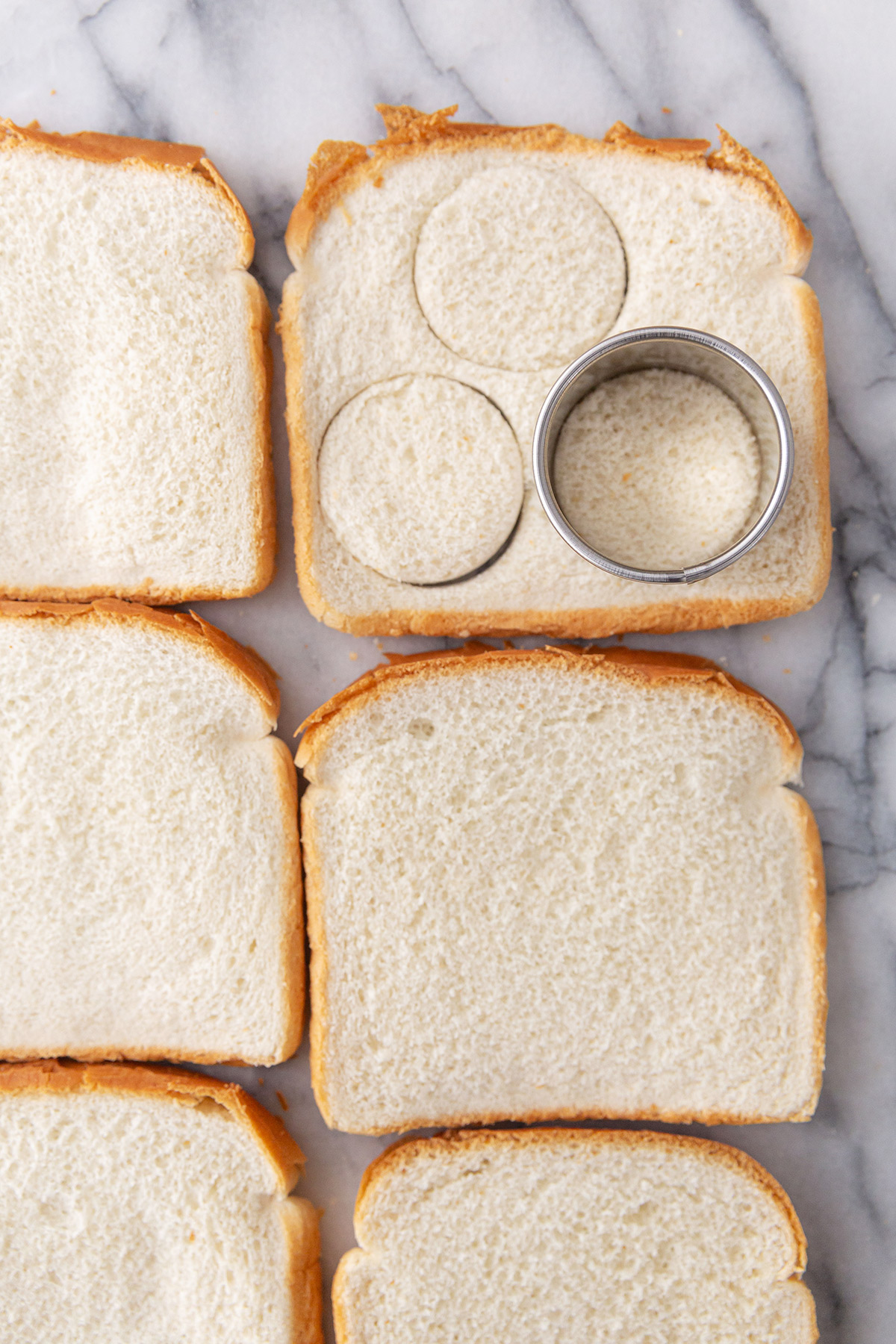 STEP 3: Use a 2″ cookie cutter or biscuit cutter to cut out approximately three two-inch circles from each flattened slice of bread. You might be able to get four circles out of your bread, depending on size.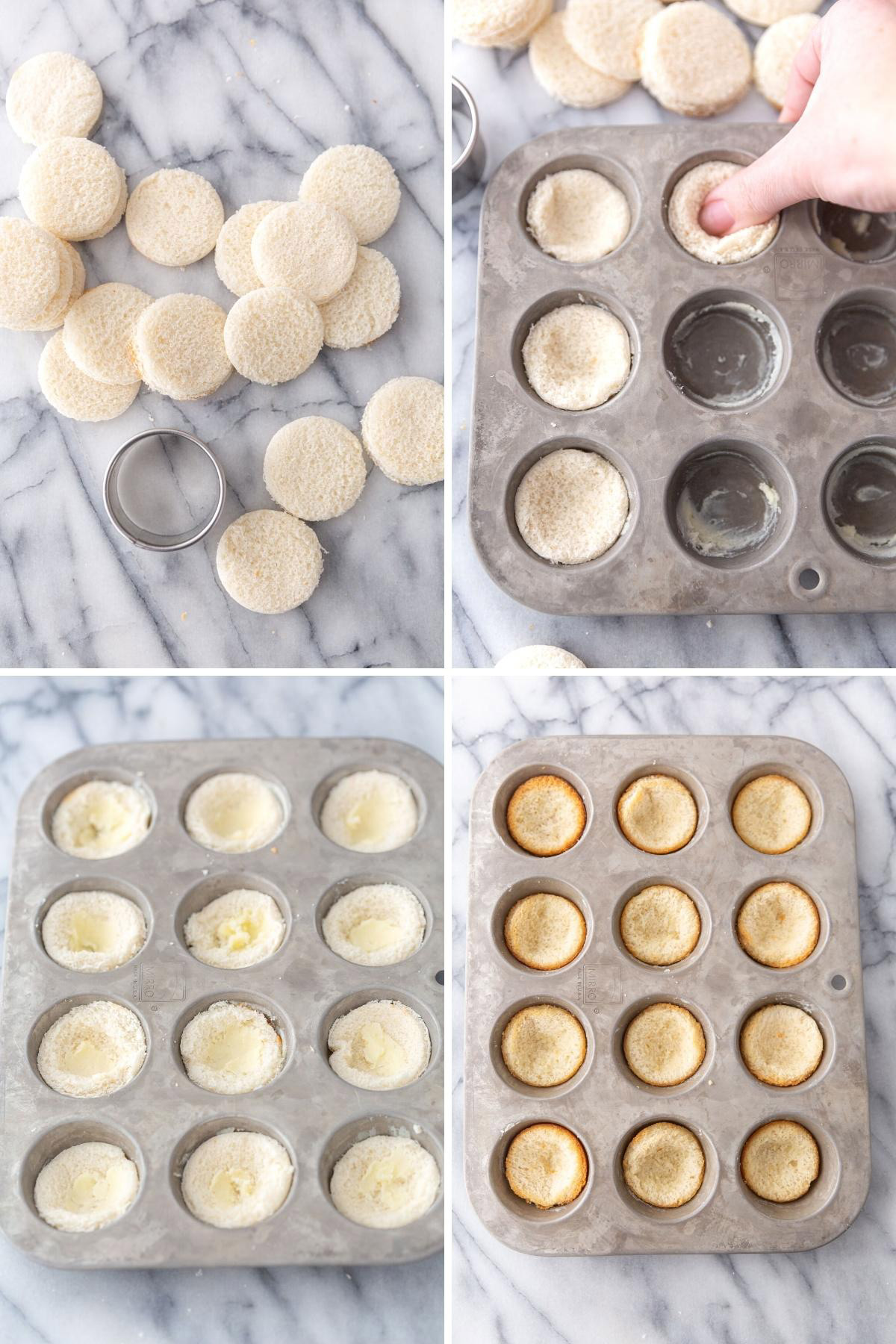 STEP 4: Butter a miniature muffin pan and gently press the rounds into the buttered mini muffin tin openings. Butter the top of each bread slice. This helps make the toast cups super buttery and crispy!
STEP 5: Bake the empty cups at 350 degrees F. for about 10 minutes. They should be lightly golden.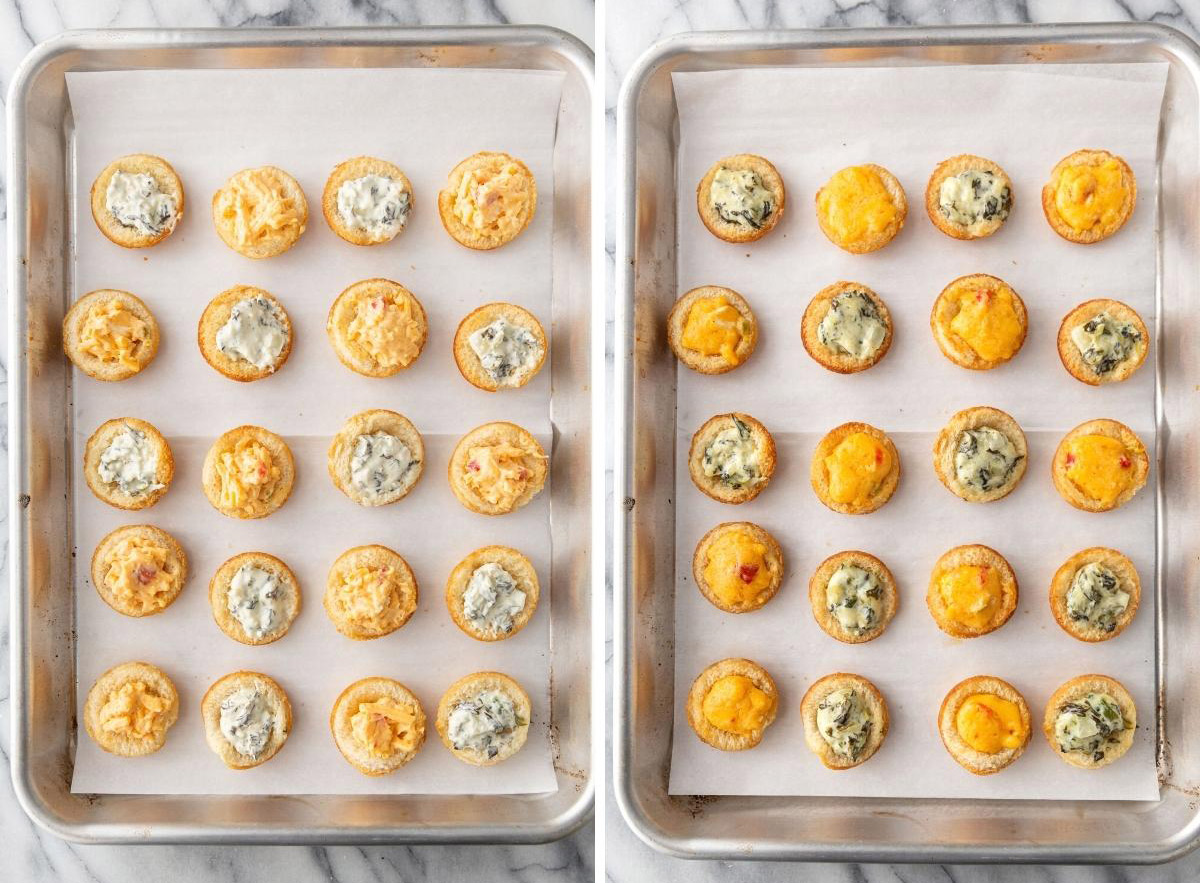 Your toast cups are ready for filling! Once filled, bake again at 350 degrees F. for 5 to 7 minutes or until filling is hot. These little toast cups are twice baked for extra crispiness!
If you have a cold filling that doesn't need to be baked again, no problem! Bake your bread rounds for about 12 minutes on the initial bake and then you're ready to fill.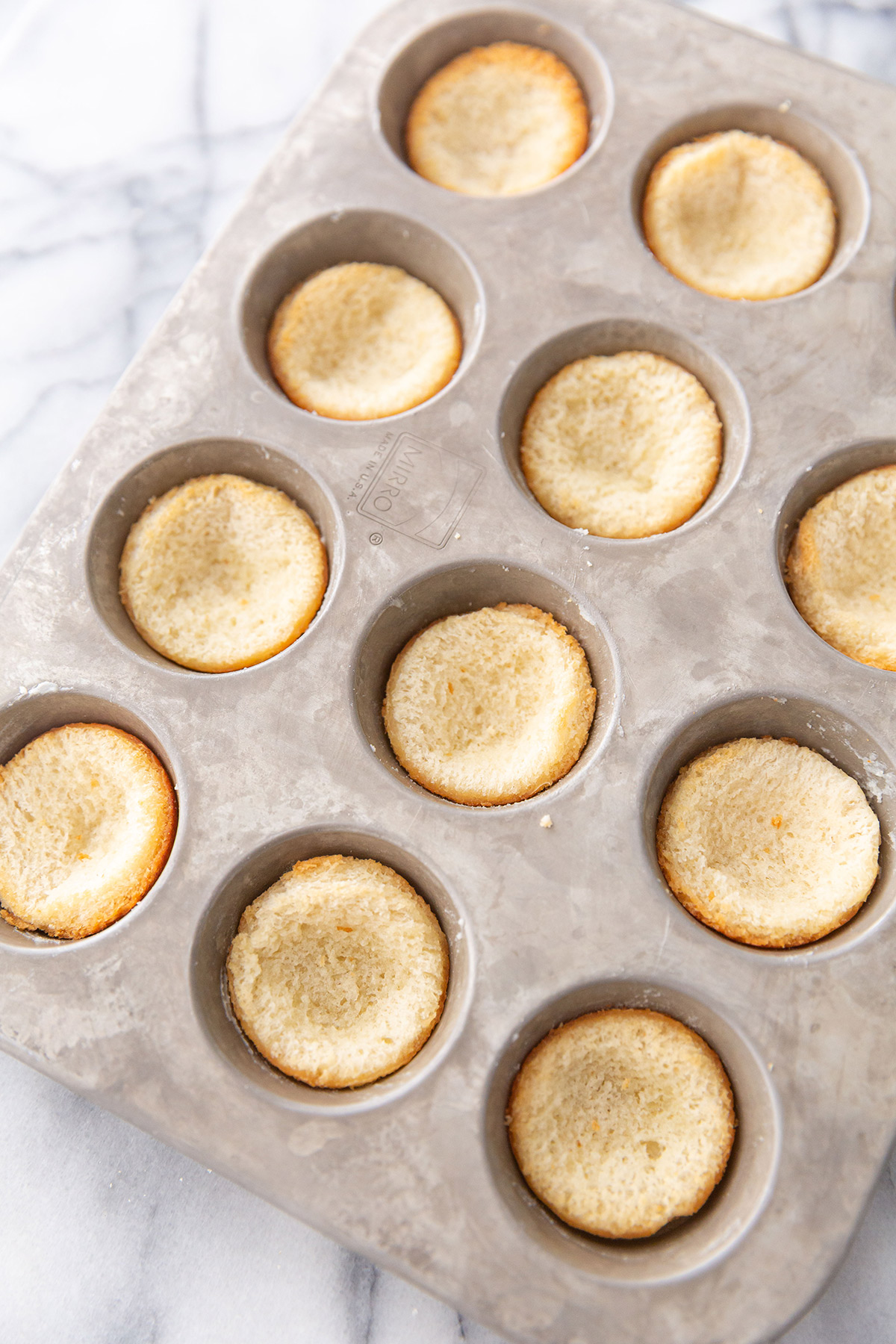 Toast cups, before being filled, can also be frozen to be filled and baked at a later time! These crispy toast cups can be used for a variety of hors d' oeuvres.
Toast Cup Appetizer Fillings
Pimento Cheese Toast Cups
Spinach Artichoke Toast Cups (spinach artichoke dip as filling)
Chicken Salad Toast Cups
Tuna Salad Toast Cups
Brie & Fig Jam
Goat Cheese & Cranberries
Quiche Filling for Breakfast Toast Cups
Crab Toast Cups (use crab dip as filling)
Tex Mex Toast Cups (black beans + salsa + cheese)
Buffalo Chicken Toast Cups
Caprese Toast Cups
Children love to fill these with their favorite kid-friendly foods too like diced fruits, veggies, peanut butter, jelly, etc.
These crispy toast cups are the perfect bite sized appetizer when filled with your favorite combinations of cheese, fruit, herbs, meats, or party dips. No time to make a filling? Store bought, ready-made dips work well too!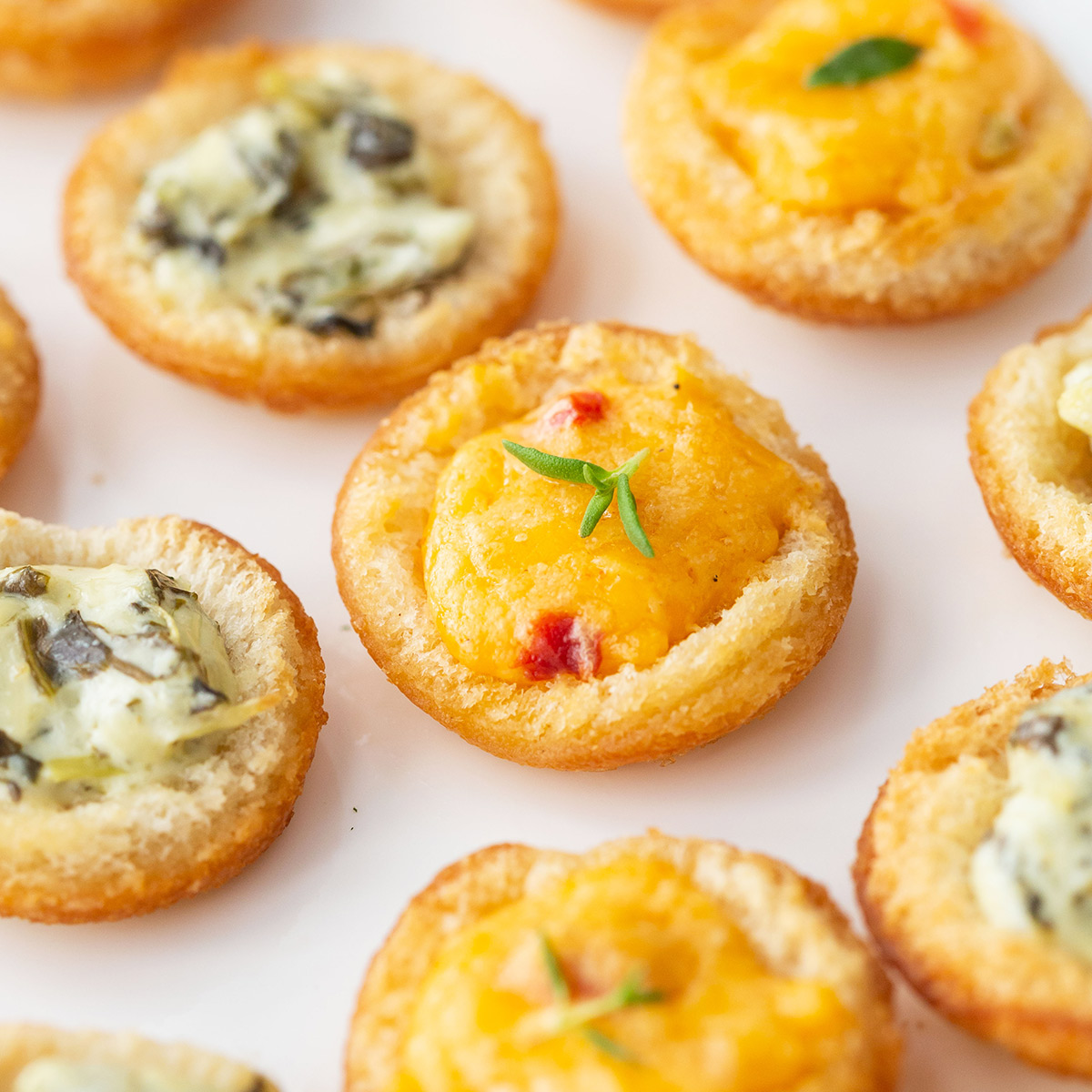 These little crispy cups have been served at my parties (and my mother's parties) for years and years. We have even served them at my daughter's parties because the parents and kids alike love them!
The next time you need a bite sized party appetizer, you have to try these toast cups. Fill them with any delicious combination of savory (or even sweet) toppings.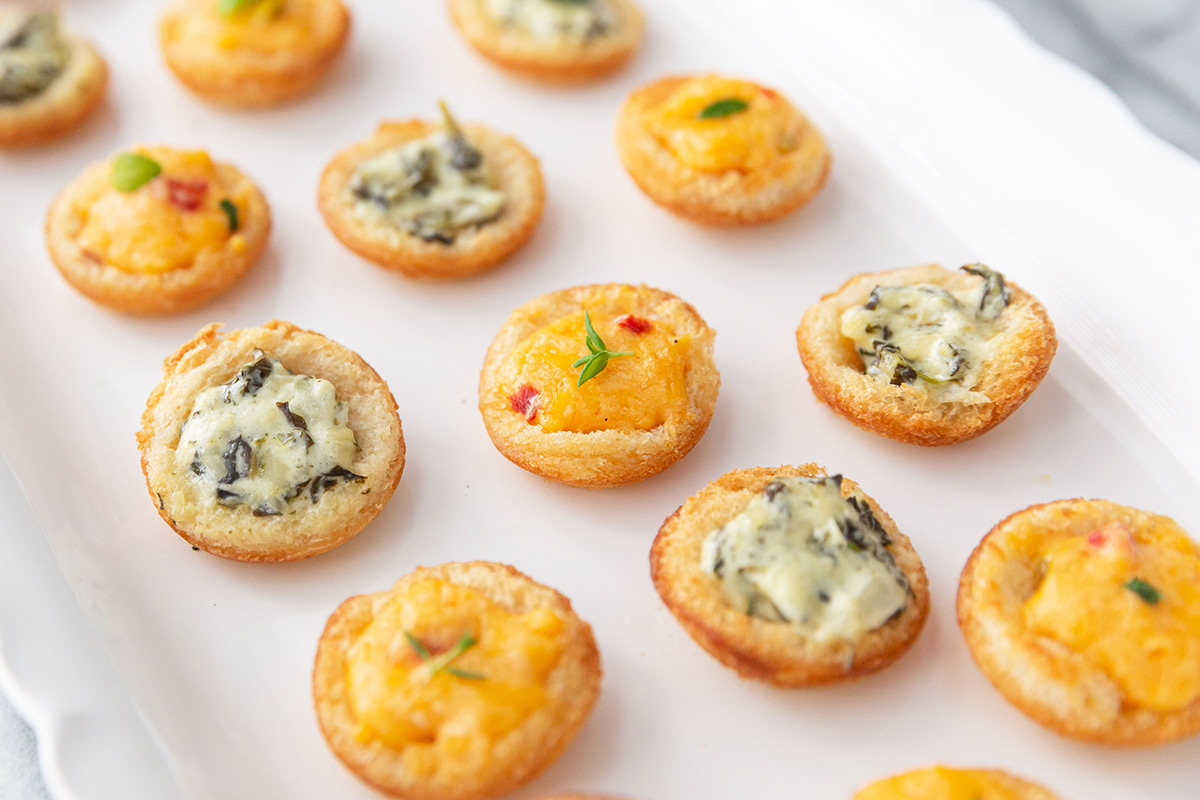 Plate these little bites on a tiered platter or serving tray and voila! I also like to add a little garnish of fresh chopped herbs like chives, thyme or parsley!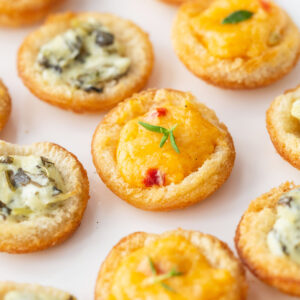 Party Toast Cups
Delicious crispy toast cups made from sandwich bread make the perfect bite sized party appetizer when topped with your favorite fillings.
Equipment
1 Rolling Pin

1 two-inch cookie cutter

1 mini muffin pan
Ingredients
12

slices

sandwich bread

1/4

cup

butter

softened
Instructions
Using a rolling pin, roll each slice of bread slightly use a 2-inch biscuit cutter or cookie cutter to cut out 3 rounds from each slice.

Brush the inside of a mini muffin pan with butter. Carefully fit the bread rounds into the mini muffin pan and brush the inside of the bread rounds with butter also.

Bake the empty cups for 10 minutes or until lightly golden.

Remove from oven and fill the cups with your favorite fillings. Bake again for 5 to 7 minutes.

Note: If serving a filling that does not need to be baked (ex: fruit, cold chicken salad, etc) then initially bake for 12 minutes and remove from oven and fill.

Toast cups, before being filled, can be frozen for up to 2 months, in a freezer safe container. Just thaw, fill and bake!
Calories:
24
kcal
Carbohydrates:
4
g
Protein:
1
g
Fat:
1
g
Saturated Fat:
1
g
Polyunsaturated Fat:
1
g
Monounsaturated Fat:
1
g
Trans Fat:
1
g
Cholesterol:
1
mg
Sodium:
44
mg
Potassium:
12
mg
Fiber:
1
g
Sugar:
1
g
Vitamin A:
3
IU
Calcium:
24
mg
Iron:
1
mg