Stuffed Figs with Goat Cheese and Prosciutto
Looking for an easy and elegant appetizer? You must try these fresh figs stuffed with goat cheese, prosciutto, and walnuts then drizzled with honey for a delectable, no-bake appetizer!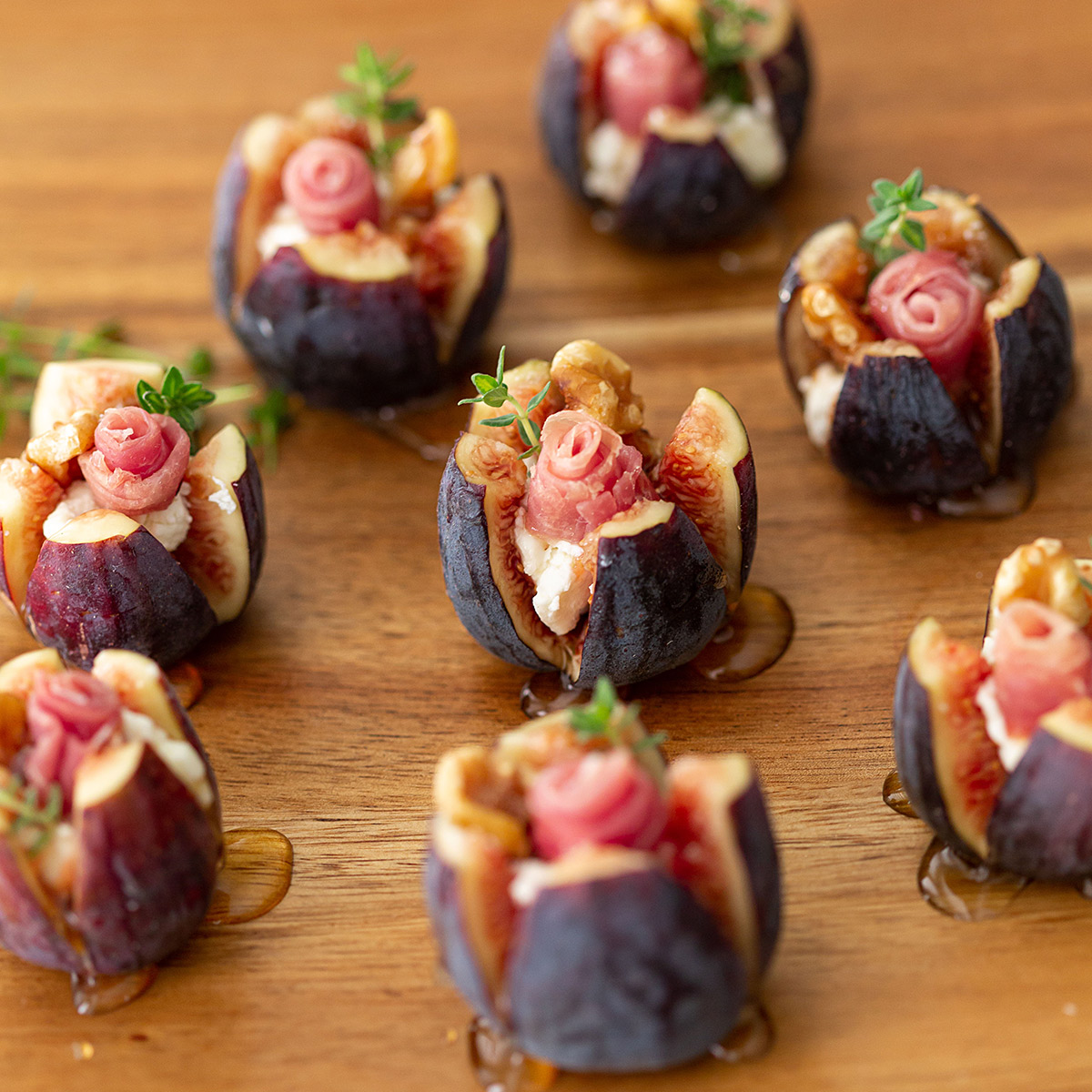 Goat cheese stuffed figs are one of my absolute favorite little bite-size appetizers. In the early fall, when figs are in season, I always grab lots of them to make all my fave fig recipes (like this AMAZING Baked Brie with Fig Jam).
My brother lives in the North Carolina mountains and has two massive fig trees in his backyard so I'm lucky to get homegrown figs too!
TIP: How do you know when figs are ripe?
Figs are ripe are a brown or purple hue and soft, slightly squishy when pressed (similar to a water balloon) and they also begin to droop slightly. Figs do not continue to ripen once they are picked.
Stuffed figs, especially this no-bake version, has to be one of the quickest recipes to make, and they're absolutely luscious to eat.
The goat cheese, prosciutto and nuts are the perfect savory addition to the sweet fig. Add on the honey drizzle? Perfect appetizer, every time!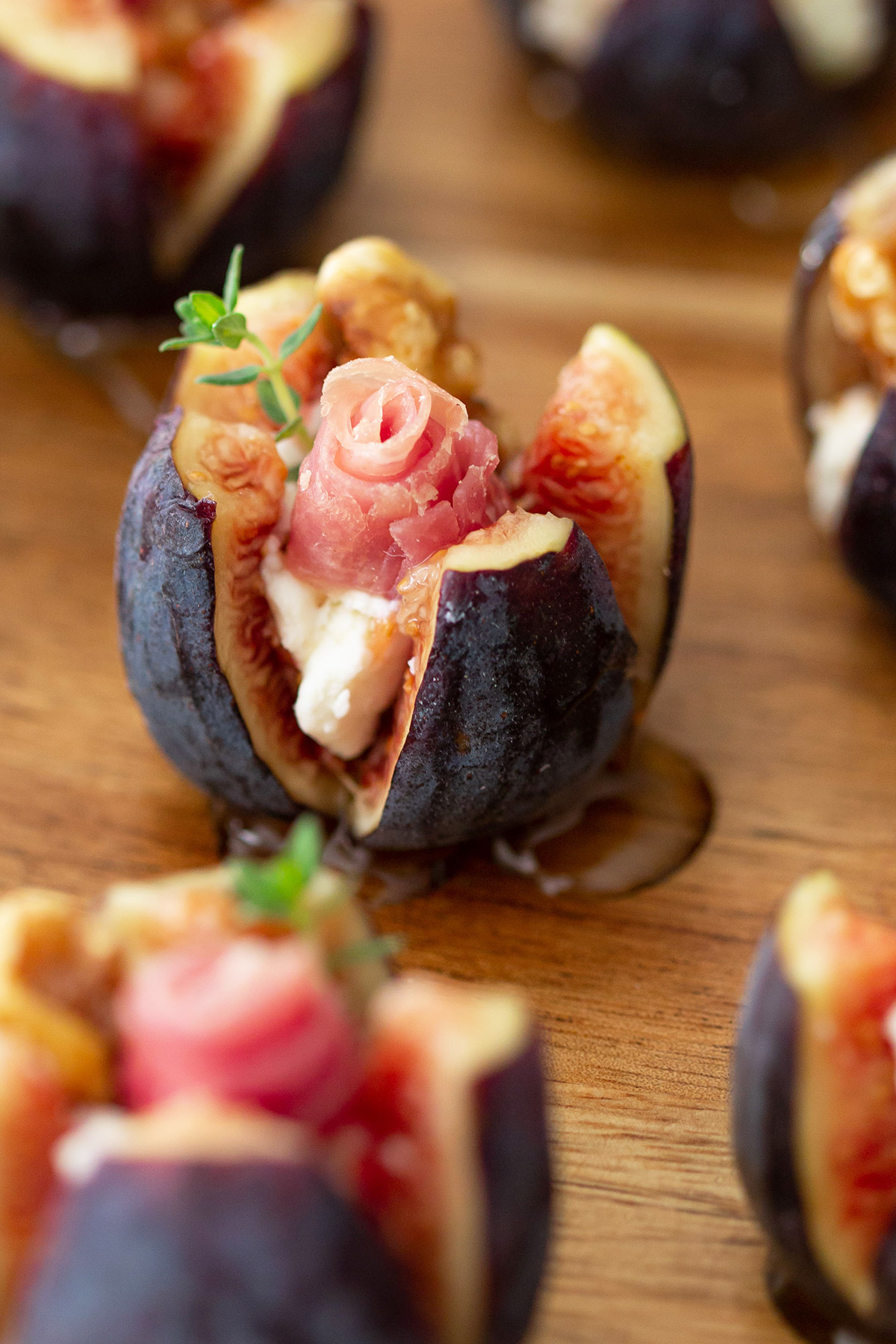 How to Make Goat Cheese Stuffed Figs
Begin by washing and drying your figs. Cut off the stems and cut an X-shape into the fig, be careful not to cut all the way through the fig. You want to aim for about 2/3 of the way down the fig.
Carefully open the fig and stuff with goat cheese, a prosciutto rose, and a walnut. If your goat cheese is extra creamy and it's difficult to fill, you can pipe it in by filling a plastic bag with the goat cheese and snipping off a corner.
Garnish with a sprig of thyme and a drizzle of honey!
Prosciutto Roses
For my prosciutto, I decided to make tiny prosciutto roses to tuck down in the goat cheese. The little prosciutto roses are a breeze to make and really elevate the appearance of this fig appetizer.
Take roughly a 4″ by 1/2″ strip of prosciutto and roll it tightly. Flip upright and tuck down inside your fig. That's it! SO easy and it makes such a pretty appetizer.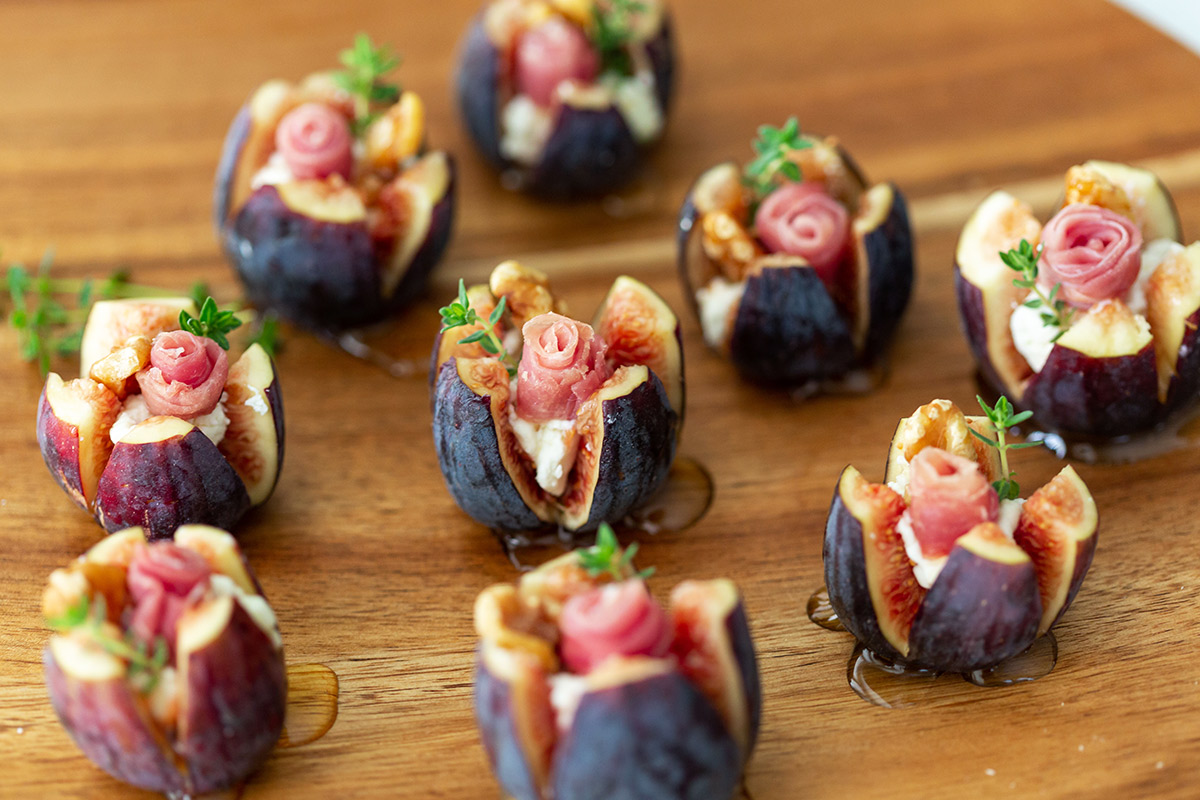 Should I Roast My Stuffed Figs?
Stuffed figs with goat cheese are often roasted and then drizzled with honey, served warm. This is also delicious, but I've found it's not necessary to roast them, they're delicious either way! But you can certainly roast these on a baking sheet, in the oven, at 350 degrees F. for about 20 minutes if you like.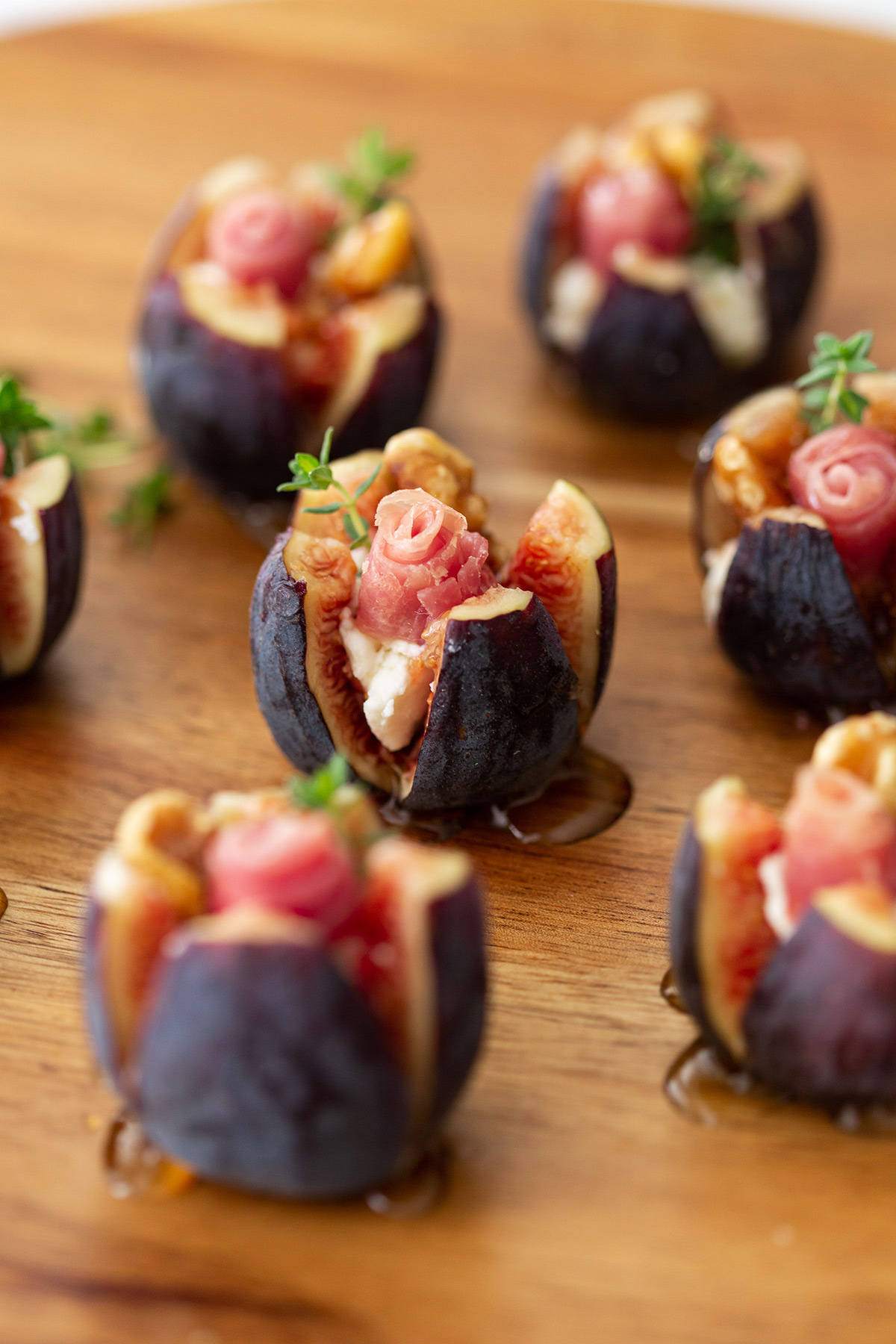 Stuffed Fig Variations
While I love the goat cheese and prosciutto combination, there are endless flavor variations for stuffing figs! Here are a few to get the wheels turning…
Blue Cheese Stuffed Figs
Wrap Stuffed Figs in Prosciutto or Bacon
Brie Stuffed Figs
Ricotta Stuffed Figs
Substitute walnuts for almonds, pistachios, pecans, or another favorite nut.
Gorgonzola Stuffed Figs
Instead of figs and honey, drizzle the figs with balsamic glaze.
Stuffed figs are a delightful appetizer for occasions like bridal showers, baby showers, cocktail parties, holiday gatherings like Christmas or Thanksgiving, or frankly, any time you want to enjoy fresh figs and goat cheese!
What to Serve with Stuffed Figs?
Here are a few appetizers that are perfect for accompanying this stuffed fig appetizer.
Leftover Figs? Here's What to Make: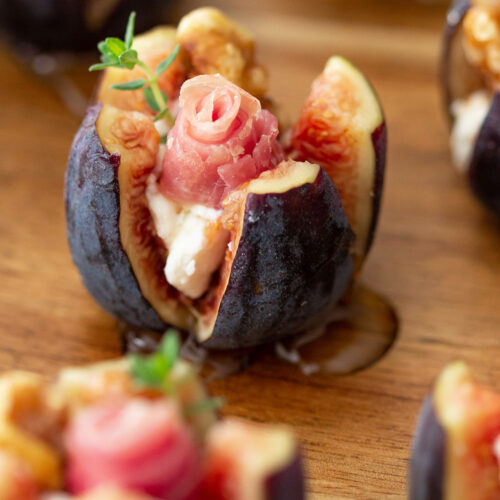 Stuffed Figs with Goat Cheese and Prosciutto
Delicious fresh figs stuffed with goat cheese, prosciutto, walnuts and a drizzle of honey for an easy and elevated appetizer.
Ingredients
12

fresh figs

6

oz

goat cheese

1/4

cup

walnuts

6

slices

prosciutto

(thinly sliced)

3

tbsp

honey

fresh thyme
Instructions
Gently wash figs under running water and pat dry with paper towels. Using a sharp knife, carefully score each fig with an X-shape about 2/3 of the way down into the fig.

Alternately, you can slice figs in half and gently press into the fig to make a well to fill with the goat cheese, prosciutto, and walnut.

Cut each slice of prosciutto into two, long strips. Roll each tightly into a prosciutto rose shape (optional).

Stuff each fig with goat cheese, prosciutto, and a walnut.

Drizzle each fig with honey.

Optional Garnish: Add a little sprig of thyme or other fresh herb (like rosemary)
Calories:
123
kcal
Carbohydrates:
14
g
Protein:
4
g
Fat:
6
g
Saturated Fat:
3
g
Polyunsaturated Fat:
2
g
Monounsaturated Fat:
2
g
Trans Fat:
0.01
g
Cholesterol:
9
mg
Sodium:
79
mg
Potassium:
141
mg
Fiber:
2
g
Sugar:
13
g
Vitamin A:
219
IU
Vitamin C:
1
mg
Calcium:
40
mg
Iron:
1
mg