Pear Appetizer with Prosciutto & Blue Cheese
If you're on the lookout for a simple yet delicious pear appetizer, then look no further! This two bite appetizer always impresses guests, and it's simple to make! Sweet juicy pear slices are wrapped with bold blue cheese and salty prosciutto for the ultimate fancy appetizer!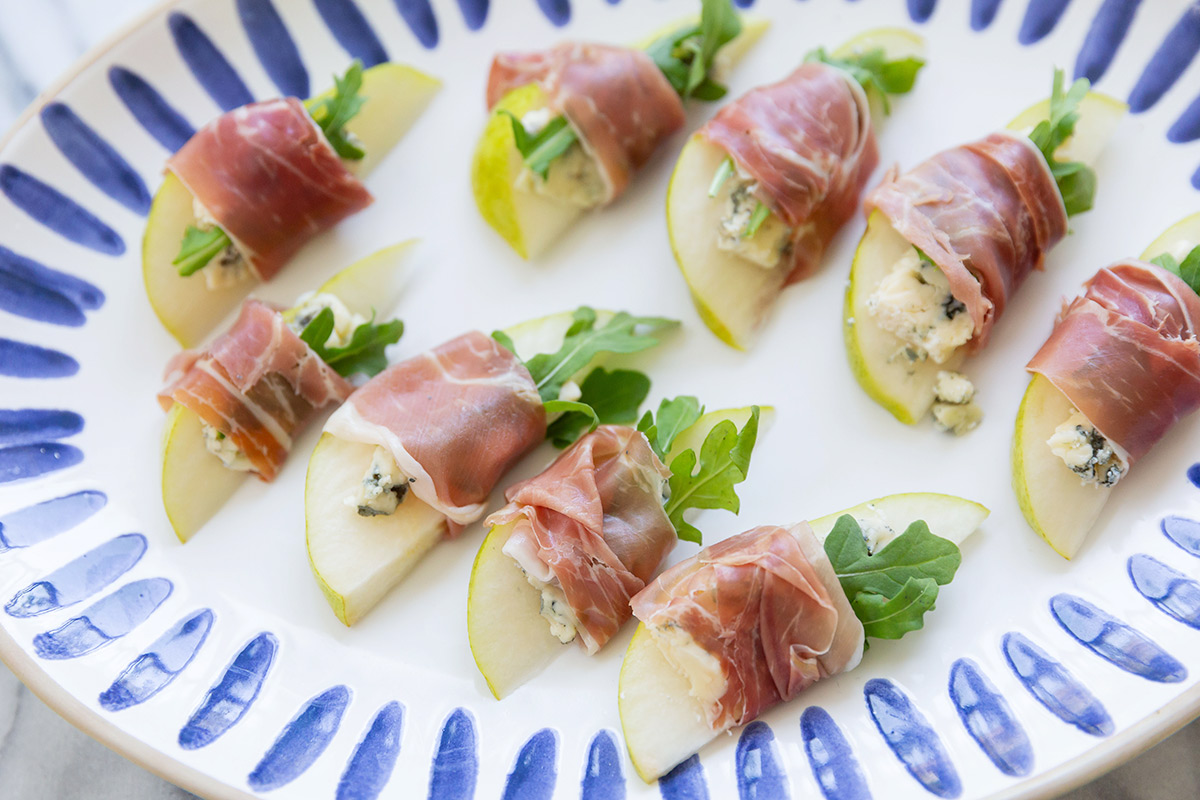 I love easy appetizers, especially this pear one! The sweetness of the pear balances out the savory notes of blue cheese and prosciutto making it perfect for almost any occasion, especially holiday gatherings!
Simple Ingredients, Big Impact!
The beauty of this elegant appetizer lies in just how simple it is. All you need are fresh pears, a high-quality blue cheese, thinly sliced prosciutto, and a handful of baby arugula. The magic is in layering the ingredients together for a delightful little bite perfect for your next party or last-minute guests.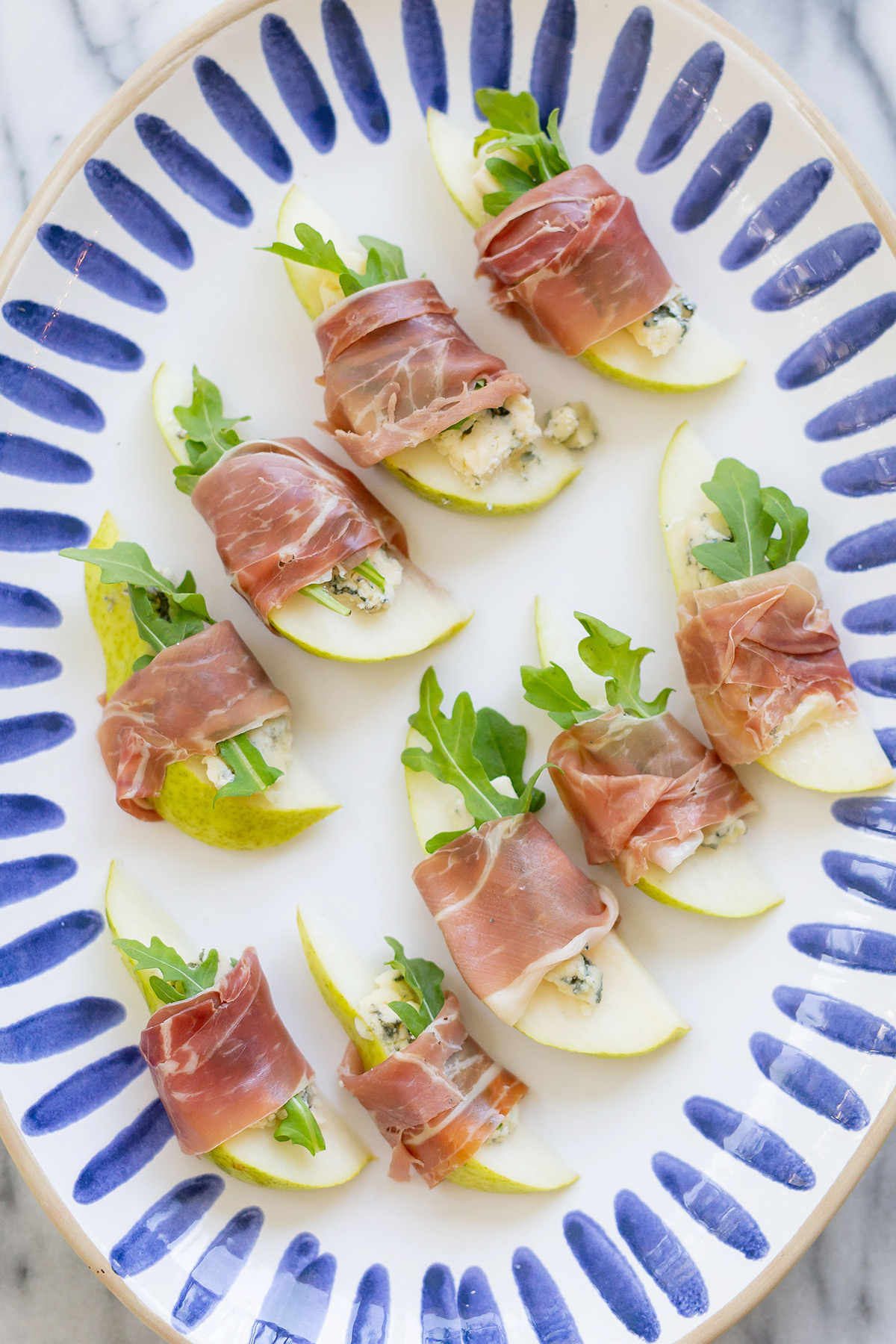 Ingredients You'll Need
Pear Slices: I love both Bartlett and Comice pear varieties for this appetizer, use whatever you can find at your market! Bosc and Anjou are also delicious pears!
Blue Cheese: Buy block blue cheese rather than crumbled blue cheese. It's naturally crumbly when you slice it off, but it will be easier to layer on than already crumbled blue cheese. If you want a substitute, you can make these with a sharp cheddar cheese!
Arugula: Adding a peppery kick and the perfect pop of green, layer on a few arugula leaves on top of the blue cheese.
Prosciutto: Thinly sliced prosciutto is best!
This is truly the easiest appetizer to make. No ovens, air fryers or other kitchen gadgets needed! You just layer on the blue cheese, arugula and a thin slice of prosciutto around a pear slice and ta-da! A two-bite pear appetizer that's ready for your New Year's Eve gathering, cheese board spread, girl's night party or any other festive occasion!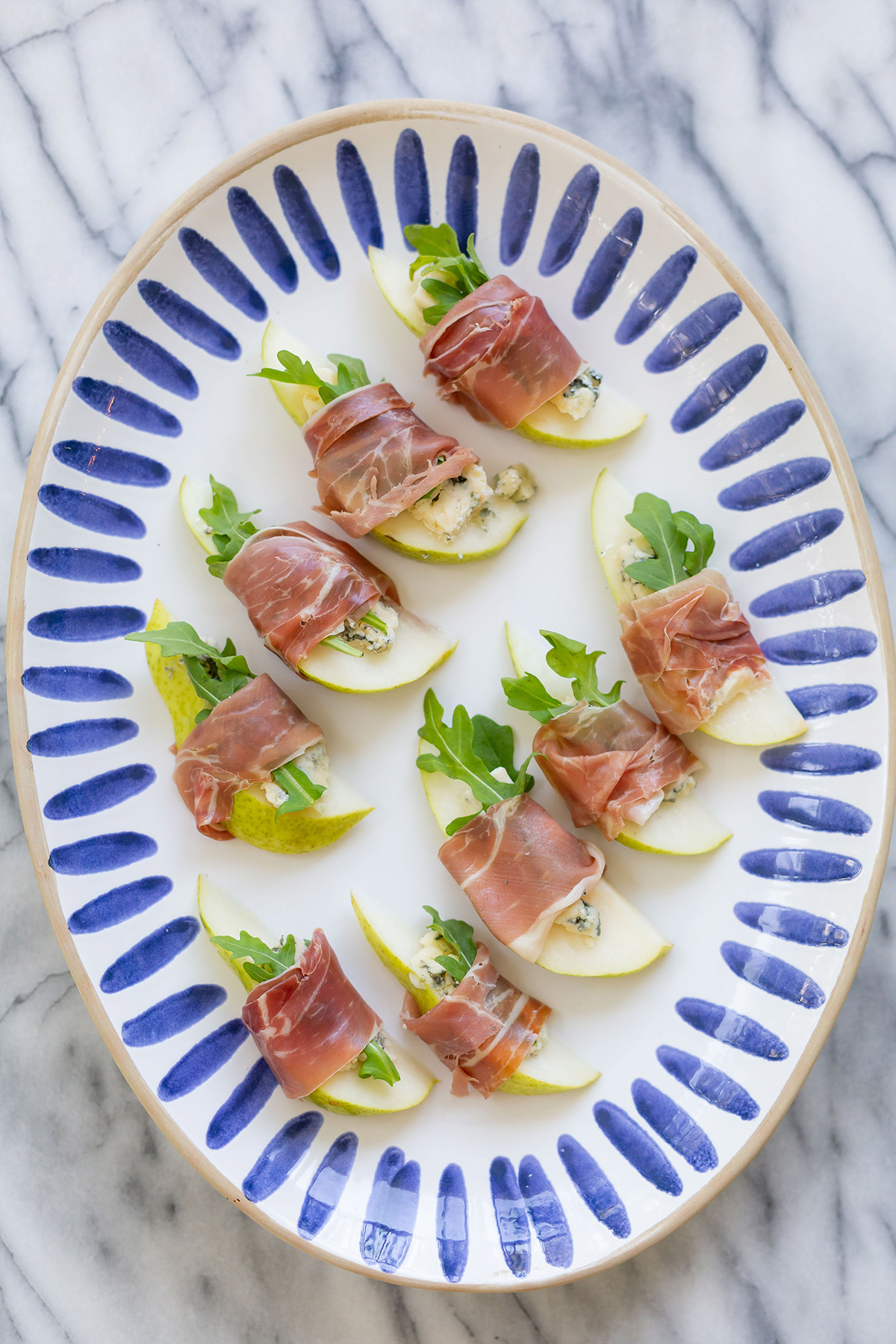 Serving Suggestions for Pear & Prosciutto Appetizer
Now that you've made your pear appetizers, it's time to think about my favorite part of every appetizer…the presentation. Here are a few serving ideas to take your Blue Cheese and Prosciutto Wrapped Pear Slices to the next level:
Serve On a Pretty Platter: Arrange your wrapped pear slices on a charming wooden platter or pretty serving platter. Add a sprig of fresh rosemary for garnish!
Skewered Delights: Skewer each pear slice for a convenient, mess-free serving option. Not only does this make it easy for guests to grab a bite, but it also adds a playful element to the presentation.
Accompanied by Honey Drizzle: Elevate the flavor profile by drizzling a touch of honey over the assembled bites. The sweetness of the honey complements the pear and blue cheese, creating a delightful contrast to the saltiness of the prosciutto. Try out hot honey for a spicy kick! I love both Mike's Hot Honey and Red Clay out of Charleston, SC.
As a Charcuterie or Cheese Board Addition: Integrate these wrapped pear slices into your cheese board for a diverse range of flavors!
A serving note: These easy pear appetizers are best served immediately, but can be kept chilled in the refrigerator until ready to serve, ideally same day. Just spritz a bit of lemon juice on the pears to prevent browning as they come to room temperature.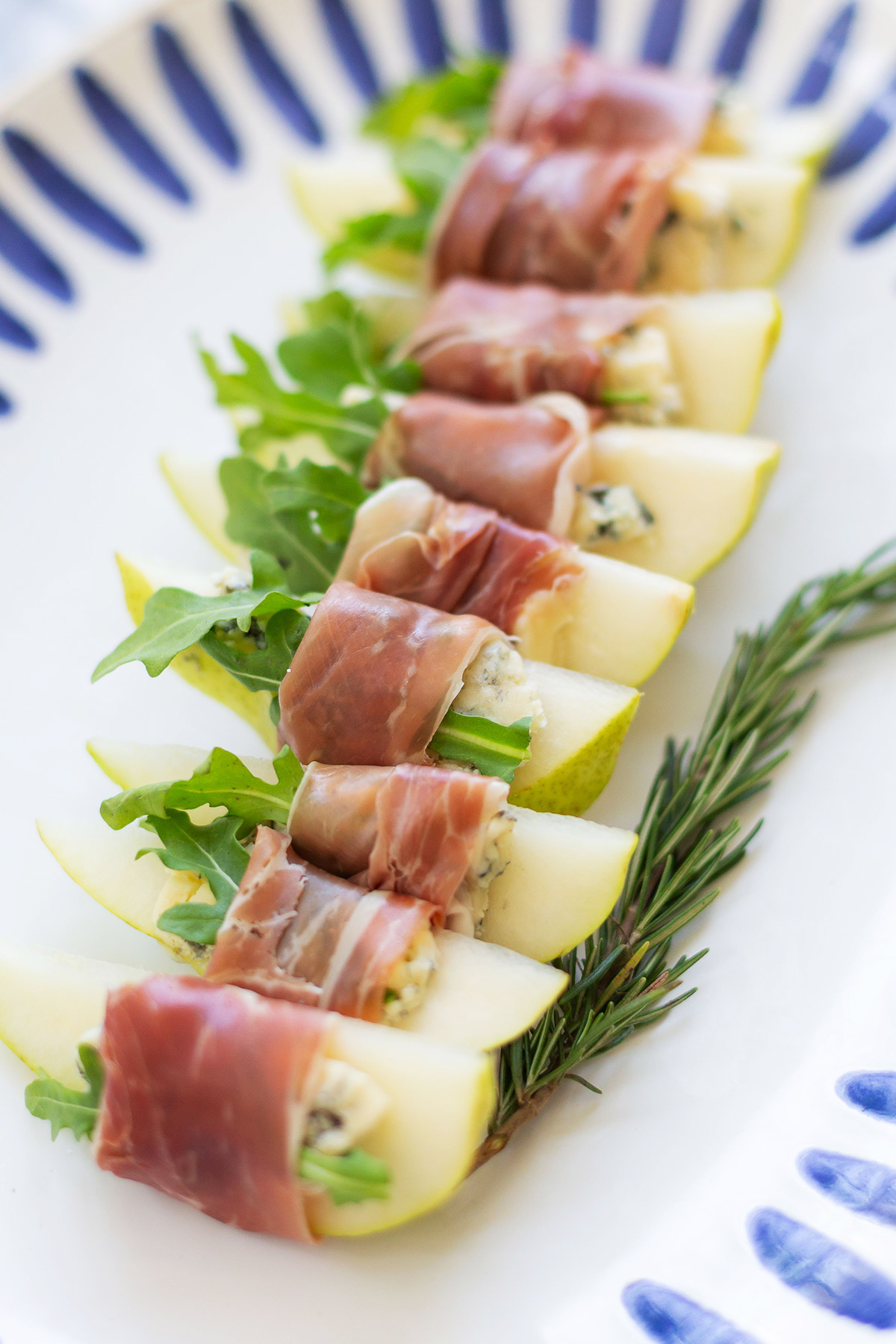 Whether you're hosting a casual gathering or a holiday party, these little bites are sure to steal the show. So the next time you need an easy appetizer recipe, try out these delicious wrapped pear slices!
More Elegant Party Appetizers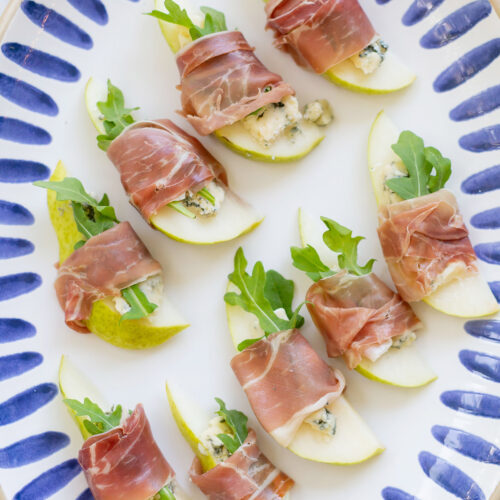 Pear Appetizer with Prosciutto, Blue Cheese and Arugula
Sweet pear slices wrapped with savory blue cheese, arugula and prosciutto for an easy yet elegant party bite!
Ingredients
1-2

Pears

cored and sliced

10

slices

prosciutto

4

ounces

blue cheese wedge

1

bunch

arugula leaves
Instructions
Each pear will have about 8-10 pear slices, depending on the thickness of your slices.

Cut each prosciutto slice in half lengthwise.

Cut a small slice of blue cheese from the block or wedge.

Layer a slice of blue cheese and a few arugula leaves on top of a pear slice and carefully wrap with a piece of prosciutto, pressing the prosciutto together on the underside to secure. You can also use toothpicks or skewers to secure.

Refrigerate until ready to serve or serve immediately! If serving later, spritz the pears with a bit of lemon juice to prevent them from browning.
Notes
**Optional Additions**
Add a drizzle of honey, hot honey or even balsamic glaze to these pear appetizer bites!
Calories:
43
kcal
Carbohydrates:
2
g
Protein:
2
g
Fat:
3
g
Saturated Fat:
2
g
Polyunsaturated Fat:
0.3
g
Monounsaturated Fat:
1
g
Trans Fat:
0.01
g
Cholesterol:
7
mg
Sodium:
93
mg
Potassium:
54
mg
Fiber:
0.4
g
Sugar:
1
g
Vitamin A:
181
IU
Vitamin C:
1
mg
Calcium:
40
mg
Iron:
0.1
mg