Easy Green Bean Casserole Bites for Thanksgiving
Thanksgiving is synonymous with comfort food, and few dishes evoke the warm and fuzzy feelings of home quite like green bean casserole. This year, let's elevate the classic favorite into a tasty Thanksgiving appetizer —Green Bean Casserole Bites!
These little green bean casserole bites are filled with the flavors of creamy mushroom soup, tender green beans, and seasonings nestled into crispy golden phyllo cups. It's comfort food, but make it bite-sized and hassle-free.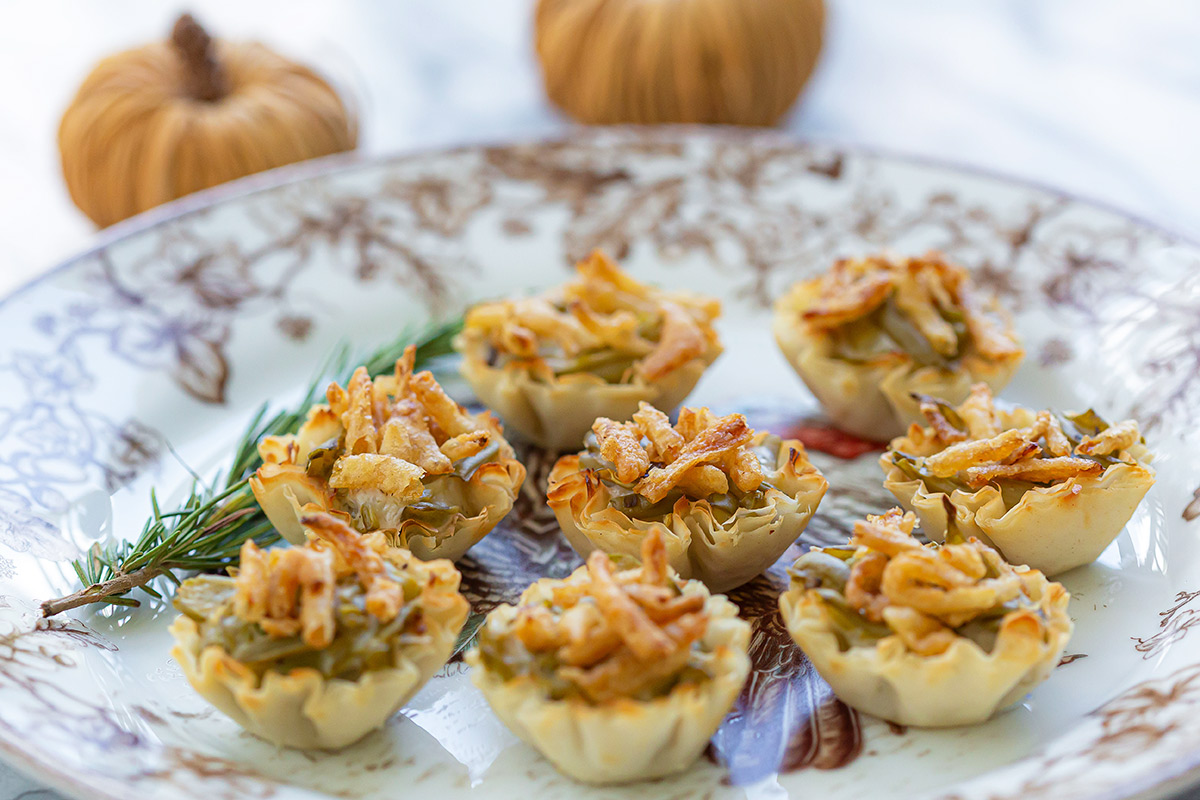 These bite-sized green bean casserole cups are super simple to make and a guaranteed hit at any holiday gathering!
Green Bean Casserole… Appetizer-Style
My mom always made traditional green beans with a ham hock (we're Southern… it's a must) for Thanksgiving, so I wasn't introduced to green bean casserole until college when I visited my roommate's family in Newnan, GA. I was immediately hooked! A bite sized version of my favorite classic Thanksgiving dinner side dish? Pass that platter right on over, thanks!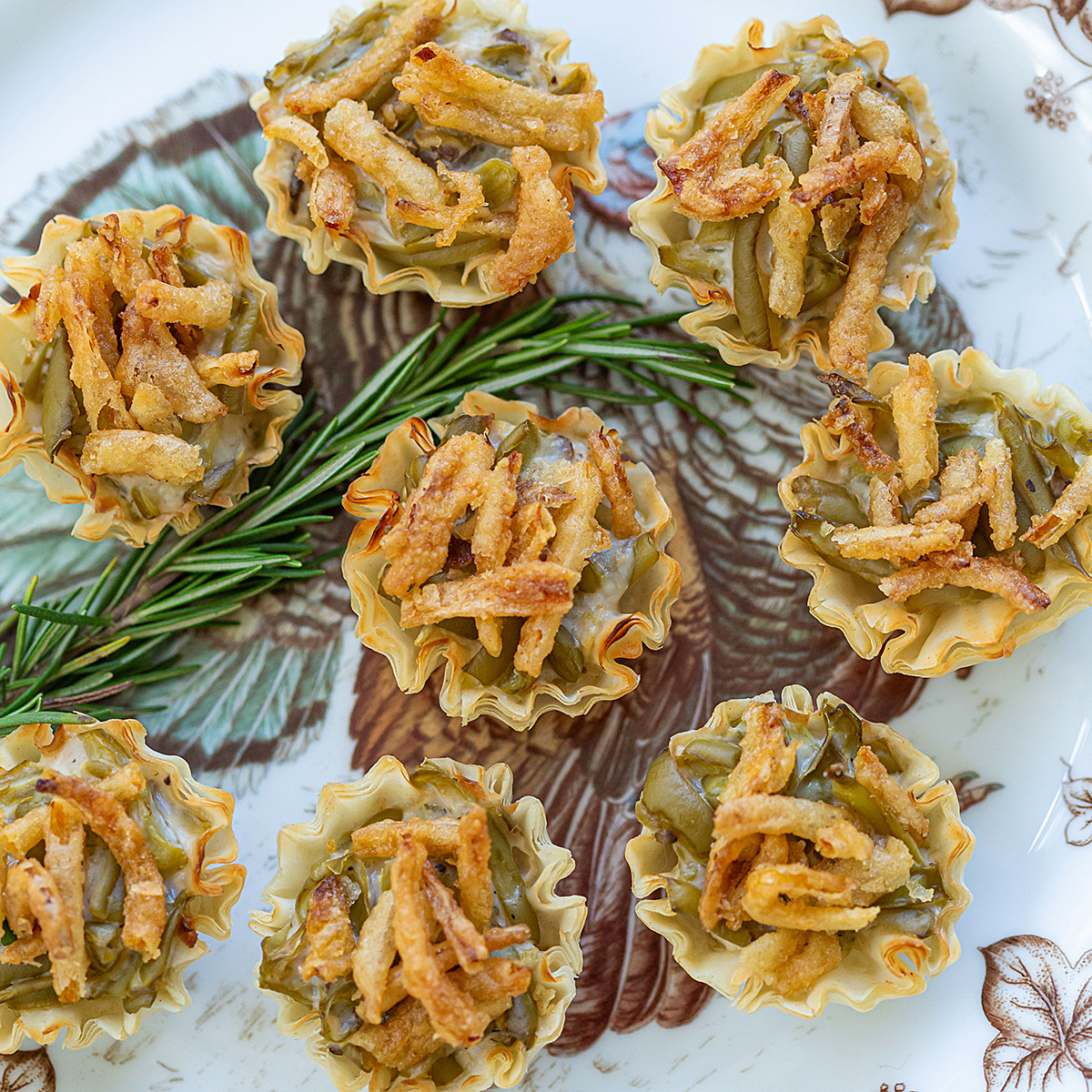 What you'll love about this green bean casserole appetizer: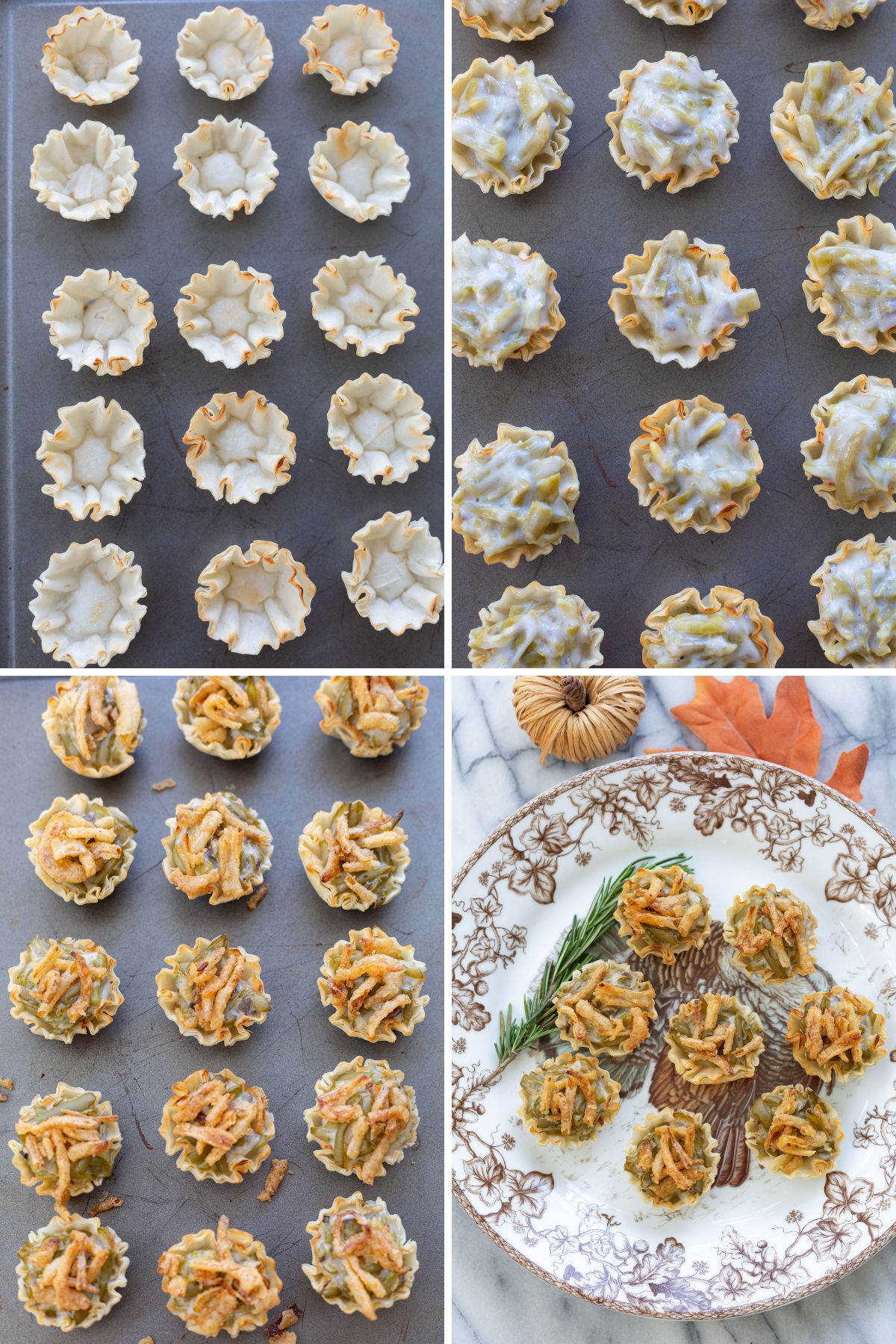 How to Make Green Bean Casserole Bites
The steps are super easy, find the full printable and savable recipe at the end of the blog post, but here are the basic steps!
Stir together your green bean casserole filling. Below is what you'll need to make the filling.
CREAM OF MUSHROOM SOUP
WORCESTERSHIRE SAUCE
GREEN BEANS (2 cans)
CHICKEN BROTH (you can substitute milk)
GARLIC POWDER (or minced garlic)
BLACK PEPPER
Pull out your frozen phyllo cups. They thaw quickly on the counter, so I usually pull them out while I'm mixing up the green bean casserole filling. Spoon the filling in to the phyllo cups. Bake for 15-20 minutes.
Add on crispy French Fried Onions, the BEST part of any green bean casserole dish! Return them to the oven and bake for an additional 5 to 7 minutes. Ta-da! Serve warm (they also taste great at room temperature).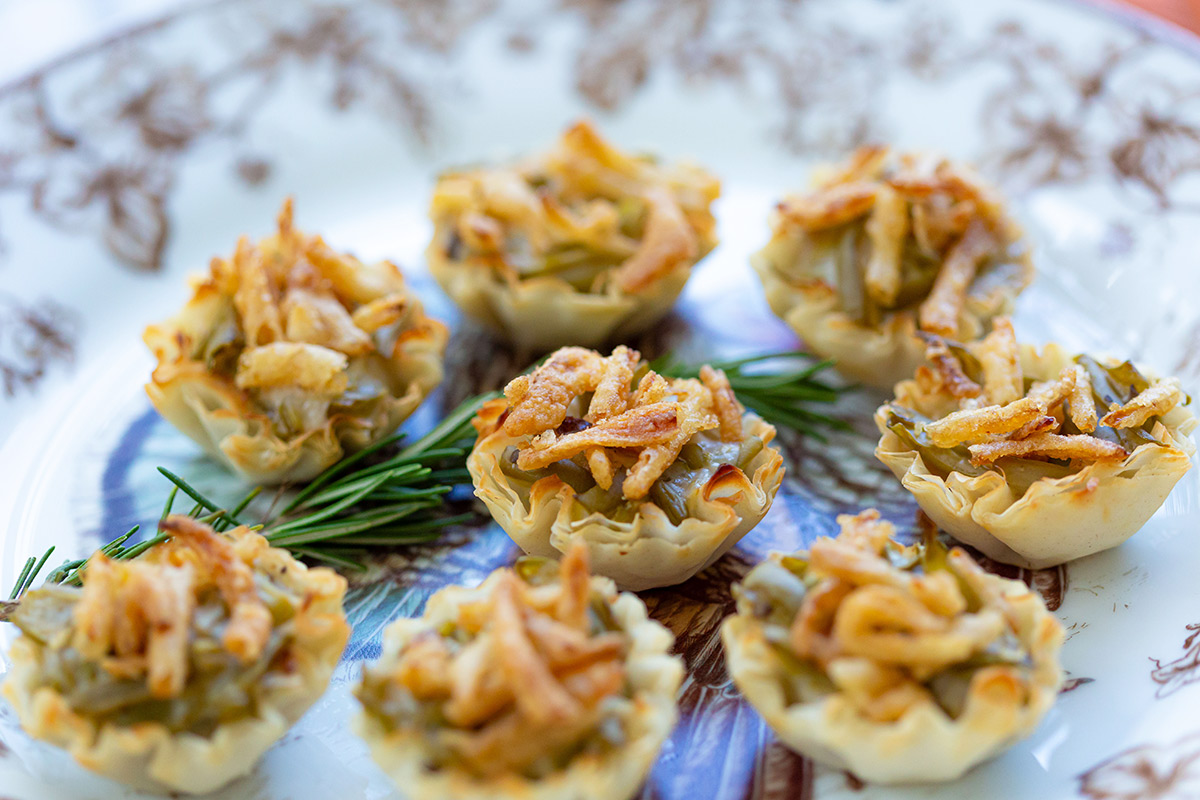 Put a Twist on It!
I love garlic powder and black pepper, but get creative with your seasonings and herbs! A dash of cayenne powder, red pepper flakes or a sprinkle of thyme would be delicious too!
Love cheese? Add a generous toss of Parmesan or cheddar cheese to the filling – play around with flavors to suit your taste buds! It's your kitchen, your rules.
Another favorite addition? Sprinkle bacon bits on top instead of the fried onions (or BOTH)!
I find premade phyllo cups to simply be the easiest way to serve these mini green bean casseroles, but you can certainly use puff pastry, biscuit dough, or crescent roll dough down in a mini muffin tin for a similar idea!
If you like to make homemade green bean casserole with heavy cream and fresh mushrooms instead of the can of cream of mushroom soup, by all means, go for it! The recipe idea will work the same as far as filling it in the phyllo cups!
Green Bean Casserole Bites: Serving Ideas
Party Starters: Hosting a shindig? These Green Bean Casserole Bites are a great recipe for any Thanksgiving or holiday season get-together. They're small, they're so simple to make, and they'll keep your guests happily munching without spoiling their turkey dinner appetite.
Picture-Perfect Platter: Arrange these bites on a fancy platter with a sprinkle of fresh herbs. The phyllo cups and tasty filling? It's like a mini holiday on a plate.
Appetizer Spread: Instead of one appetizer before a larger meal, serve up lots of different small bites and tapas of your favorite Thanksgiving dishes. Think mini turkey yeast rolls, mini sweet potato casserole bites, mashed potato bar with all the fixings, mac and cheese cups and of course, these green bean casserole bites!
Leftovers? You're in Luck – Lots of leftover green bean casserole from Thanksiving? Make a batch of these little bites for a tasty Thanksgiving leftover idea!
Speaking of leftovers, if you have leftover mini green bean casseroles, store them in an airtight container in the refrigerator for up to 5 days. Reheat them in an air fryer or oven until warmed through.
In a nutshell, Green Bean Casserole Bites are your go-to when you want comfort food vibes WITHOUT the fuss. This is one of my very favorite appetizer recipes. Store-bought phyllo cups make these so easy, and the bite sized servings make them perfect for any gathering, Thanksgiving potluck or Friendsgiving occasion.
So, kick back, turn on the football and pop these in the oven for a laid-back Thanksgiving season that's as easy as it is delicious.
If you need more appetizer ideas for Thanksgiving, try my stuffed figs with goat cheese and prosciutto!
Green Bean Casserole Bites
A bite-sized version of the Thanksgiving classic, crispy phyllo cups are loaded with the tasty filling of Green Bean Casserole and crispy onions!
Ingredients
30

phyllo cups

2 boxes of phyllo cups (15 each)

1

can

Cream of Mushroom Soup

2

14.5 oz cans

green beans

drained well

1

tsp

Worcestershire sauce

1/2

cup

chicken broth

or milk

1/2

tsp

garlic powder

1/2

tsp

black pepper

1

cup

Crispy French Fried Onions
Instructions
Preheat the oven to 350 degrees F. Arrange phyllo cups on a baking sheet.

In a mixing bowl, stir together cream of mushroom soup, green beans, Worcestershire sauce, garlic powder, chicken broth, and black pepper.

Use a spoon to carefully fill each phyllo cup with the green bean casserole filling.

Remove bites from the oven and top with french fried onions.

Return to the oven to bake for an additional 5 to 7 minutes until golden brown.
Calories:
30
kcal
Carbohydrates:
4
g
Protein:
1
g
Fat:
2
g
Saturated Fat:
0.4
g
Polyunsaturated Fat:
0.1
g
Monounsaturated Fat:
0.04
g
Cholesterol:
0.5
mg
Sodium:
74
mg
Potassium:
67
mg
Fiber:
0.1
g
Sugar:
0.2
g
Vitamin A:
1
IU
Vitamin C:
0.03
mg
Calcium:
9
mg
Iron:
0.02
mg