Classic deviled eggs get a twist! You must try these BLT Deviled Eggs full of flavor from garden cherry tomatoes and crispy bacon! They're always a party appetizer favorite, your guests will LOVE these!
Growing up in the South, you wouldn't find yourself attending a party or holiday gathering without a tray of deviled eggs somewhere. Deviled Eggs are a classic party appetizer that everyone loves, but I wanted to add a little twist to the traditional deviled eggs recipe…now we have BLT Deviled Eggs and let me tell you, they are SO GOOD!
Serving up deviled eggs is always a go-to of mine because they're a low carb appetizer that's always a hit, and you can make them in advance of parties, get-togethers or celebrations! These BLT Deviled Eggs give traditional deviled eggs a run for their money!
What's in a BLT Sandwich?
So first things first, what's in a classic BLT Sandwich? BLT stands for Bacon, Lettuce and Tomato. Usually it's on toasted sandwich bread with a slathering of mayonnaise, layers of bacon, tomatoes and lettuce. The BLT sandwich is the inspiration for these BLT Deviled Eggs!
How to Make BLT Deviled Eggs:
Let's turn this popular sandwich into deviled eggs, shall we? It's all the delicious flavors of a BLT in a deviled egg for the perfect bite-size party appetizer!
1: Make Hard Boiled Eggs
Place your eggs in a single layer in the bottom of a medium pot.
Fill the pot with water until the eggs are covered about 1- 2 inches.
Bring the water to a rolling boil over high heat, cover the pot and turn the heat off. Set a timer for 12 minutes and carefully strain out the hot water.
Cover eggs with cold water until cool to the touch.
Carefully peel your hard boiled eggs (for best results, I do this under running water to make it easier to peel) and set aside. Be sure to remove all the egg shells!
2: Make Deviled Egg Filling
Cut eggs in half and remove the yolks carefully with a spoon.
Place eggs yolks in a small mixing bowl and mash yolks with mayonnaise, dijon mustard, crumbled bacon, diced tomatoes, salt and pepper.
3: Fill and Garnish BLT Deviled Eggs
Be sure each egg white half rests nicely on your serving platter. If necessary, carefully slice a bit off the bottom so it rests evenly.
Spoon yolk mixture into a plastic bag, snip off the corner, and pipe the filling into the egg halves.
Garnish each filled deviled egg with a mini slice of bacon, mini wedge of lettuce, mini tomato (or slice of tomato), diced chives and a sprinkle of paprika.
If you want, you can also use a basil leaf instead of small piece of lettuce!
TOMATO TIP — My Mom is an avid gardener and grows Candyland Cherry Tomatoes that are so tiny and perfect for this appetizer, but check your local grocery store for other mini cherry vanities or simply add a slice of a larger cherry tomato for a similar garnish!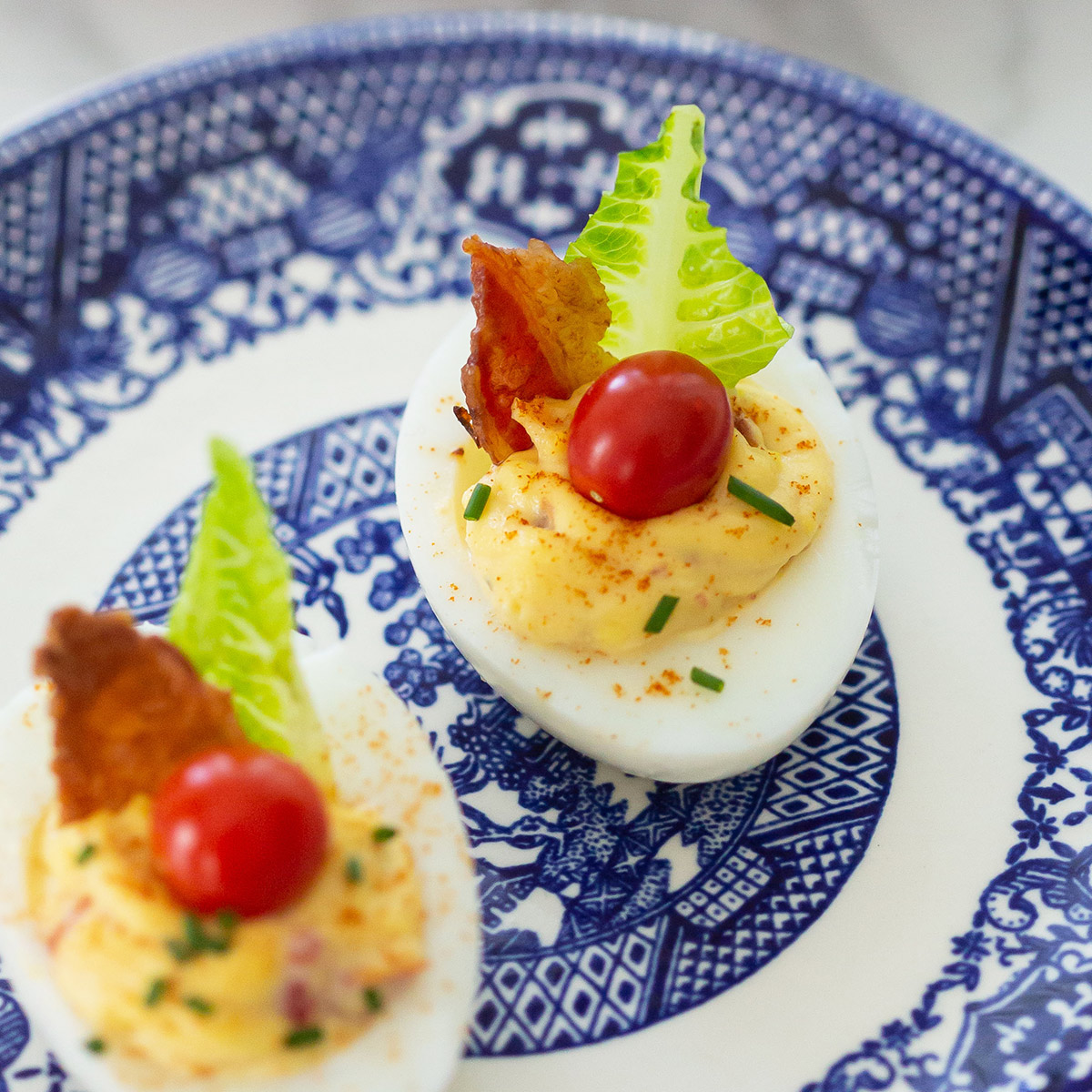 Garnishing Tips for BLT Deviled Eggs:
I love presentation when it comes to appetizers and party foods, everyone eats with their eyes first so adding a mini garden tomato, mini piece of bacon, and small lettuce wedge on top of the deviled eggs is not only pretty to look at it but tells your guests exactly what type of deviled egg they're enjoying! BLT Deviled Eggs!
I recommend using kitchen shears to carefully cut larger romaine lettuce leaves into mini pieces for these deviled eggs! Also use them for dicing chives or green onion!
As for the bacon, I take a crispy bacon strip and break it into mini pieces that are perfect for sticking down into the filling.
— TIP: Instead of paprika, try using a smoked paprika, course sea salt, Old Bay, or any of your favorite seasoning blends!
Can You Make these BLT Deviled Eggs in advance?
YES! Absolutely! That's why I love making deviled eggs when I need an easy appetizer. You can boil the eggs 2-3 days in advance, remove the yolks and make your filling. Place the bag of filling and hard boiled egg whites, covered with plastic wrap or in an airtight container, in the refrigerator until ready to serve!
The day before your party (or morning of), fill your deviled eggs and return to the refrigerator (covered with plastic wrap). When plating your deviled eggs, add your bacon/tomato/lettuce garnishes and serve! You can add the garnishes earlier, but the bacon won't stay crispy when placed in the refrigerator so add the bacon just before serving!
More Party Appetizers to Try:
The next time you are looking for egg appetizers or easy appetizers, make a big batch of these bacon, lettuce and tomato deviled eggs! They're the perfect appetizer for Easter, Game Days, Backyard BBQs and more!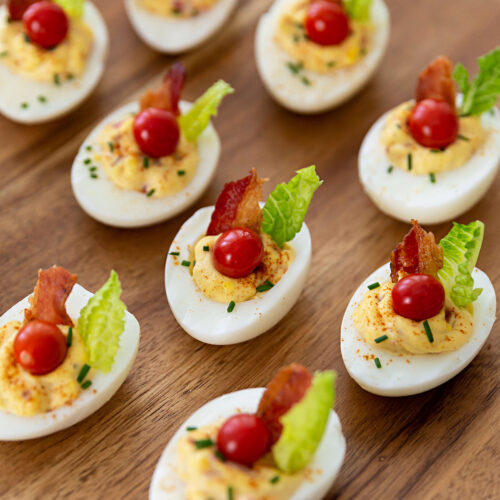 BLT Deviled Eggs
Delicious BLT sandwich inspired deviled eggs are the perfect party appetizer! An easy filling is topped with crispy bacon, garden tomatoes and lettuce!
Ingredients
Deviled Egg Filling
1/4

cup

mayonnaise

2

tsp

mustard

(yellow mustard or dijon)

1/4

cup

tomatoes

diced

2

slices

bacon

cooked crispy and crumbled

1/4

tsp

salt

1/4

tsp

black pepper
Deviled Egg Garnishes
1

tsp

paprika

for garnishing

2

tbsp

chives

diced, for garnishing

12

mini

cherry tomatoes

or small slices of tomato

2

slices

bacon

cooked crispy and broken into 12 small slices

12

mini

lettuce leaves
Instructions
Hard Boil Eggs
Place eggs in a single layer in the bottom of a medium pot.

Fill pot with water. Be sure the eggs are covered by about 1-2 inches of water.

Bring water to a rolling boil over high heat, cover the pot and turn off the heat. Set a timer for 12 minutes and then carefully strain out the hot water. Be sure not to let your eggs roll out!

Cover your eggs in the pot with cold water until cool to the touch.

Under running water, carefully peel your eggs and set them aside.
Make Deviled Egg Filling
Slice eggs in half and remove yolks. Add yolks to a mixing bowl and mash together with mayonnaise (using the back of a fork will help mash them together).

Stir in remaining deviled egg filling ingredients and stir together. Spoon filling into a plastic bag, snip off corner with scissors and fill each egg half with filling.
Garnishing BLT Deviled Eggs
Sprinkle each deviled egg with paprika and diced chives. Add in a bacon slice, lettuce leaf, and a mini tomato.
Calories:
72
kcal
Carbohydrates:
1
g
Protein:
3
g
Fat:
6
g
Saturated Fat:
1
g
Polyunsaturated Fat:
3
g
Monounsaturated Fat:
2
g
Trans Fat:
0.02
g
Cholesterol:
95
mg
Sodium:
124
mg
Potassium:
51
mg
Fiber:
0.1
g
Sugar:
0.3
g
Vitamin A:
209
IU
Vitamin C:
2
mg
Calcium:
16
mg
Iron:
0.5
mg