Cheesy Stuffed Garlic Bread
What's better than delicious garlic bread? Cheesy stuffed garlic bread, that's what! Super easy to make using sliced mozzarella, you will be making this stuffed garlic bread again and again!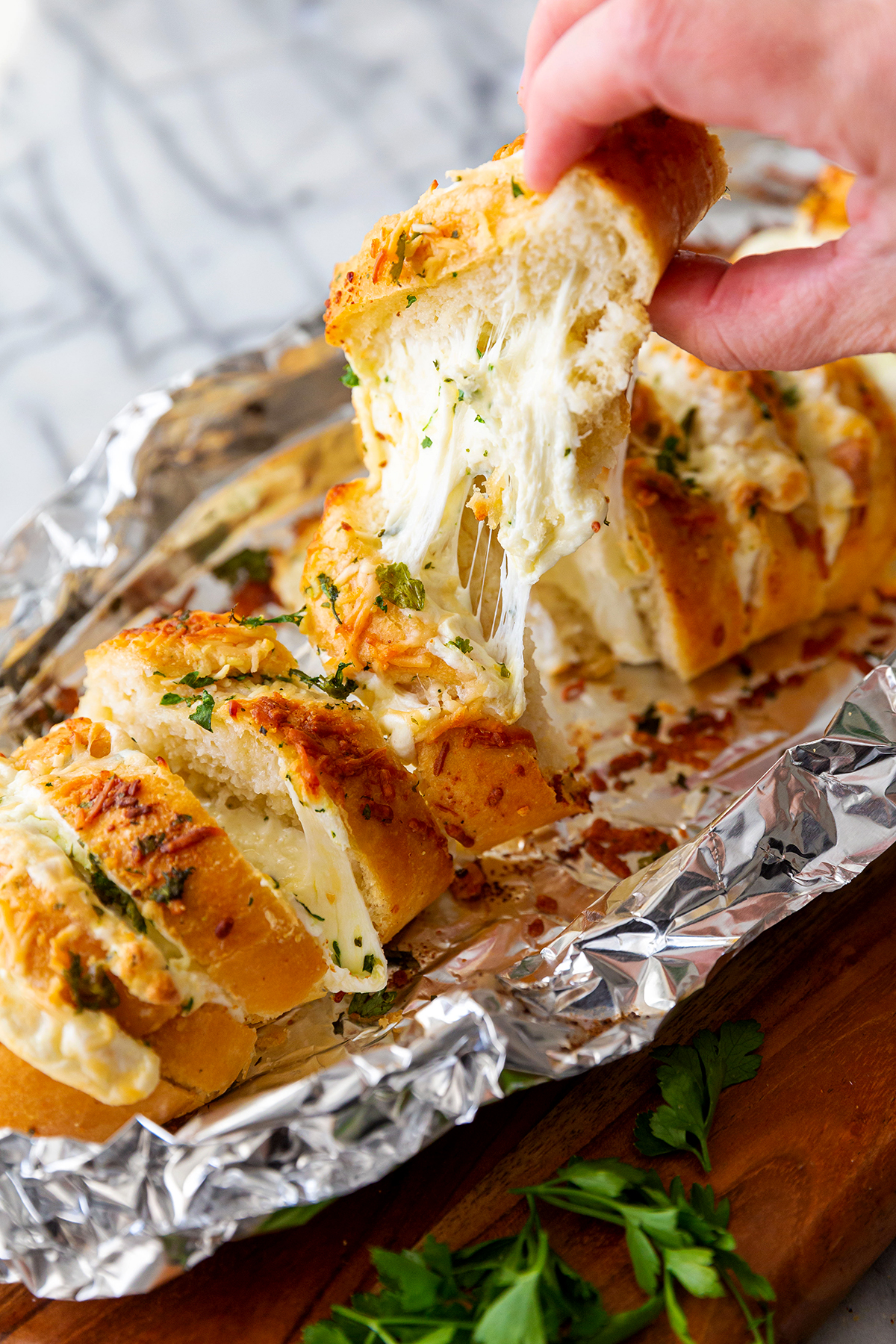 With minimal prep needed, you'll have this delicious ooey gooey and cheesy stuffed garlic bread on the table in minutes. I love to serve this as an appetizer or as an addition to a lasagna or spaghetti dinner.
Why You Will Love This Recipe
The Ingredients
Complete list of ingredients and amounts can be found in the recipe card below.
Bread Loaf – Visit the bakery section of your grocery store for a French bread loaf, Italian bread loaf or a Sourdough bread loaf. Grab one that is unsliced. The key here is a soft loaf, so not a hard baguette.
Mozzarella Cheese – Buy a pre-sliced or full mozzarella log that you can slice yourself. Either will work well. You don't want mozzarella balls for this stuffed garlic bread, however, just slices.
Butter – Unsalted or salted butter, either will do!
Extra Virgin Olive Oil – A bit of olive oil added to the herbed butter makes it spreadable
Garlic Powder – for seasoning the butter
Parsley – I used Italian parsley.
Parmesan Cheese – You can shred or grate your own, honestly any type of parmesan cheese works well! Use what you have on hand!
How to Make Cheesy Stuffed Garlic Bread
Take a look at the step by step photos below to help you make this recipe.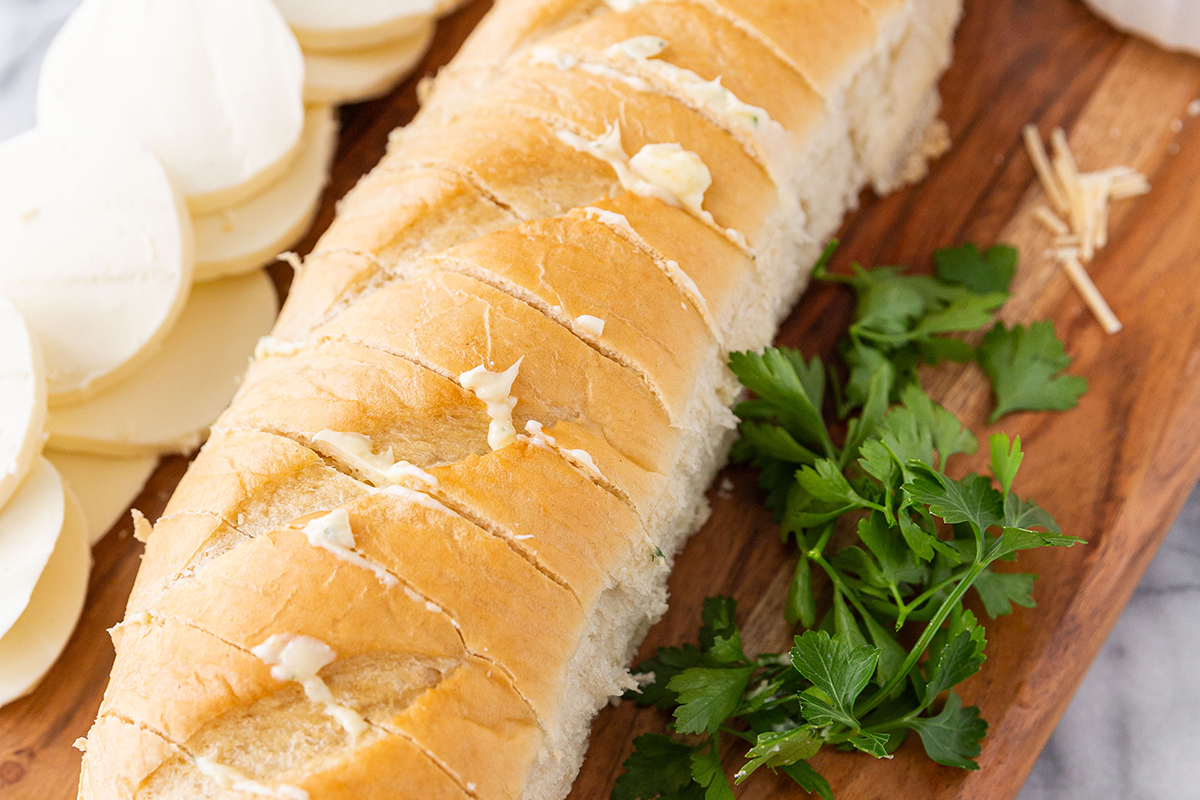 Slice Bread Loaf and Fill with Garlic Butter
Using a serrated knife, carefully slice the bread loaf into even slices but be careful not to cut all the way through the loaf – just about 2/3 of the way down!
It's okay if you do cut all the way through, however, just keep the sections of the loaf together.
Prep Garlic Herb Butter
Combine softened butter, olive oil, garlic powder and chopped parsley and stir until smooth and spreadable. I've found that when you add a little olive oil to classic garlic butter, it makes it easier to spread down into the slices.
At this step, I like to place my bread loaf on a sheet of aluminum foil on a baking sheet, so it's easy to pop right into the oven when I'm done prepping it!
Open each of your bread slices and spread some of the garlic butter into the opening using a knife. Be sure to reserve about half of your garlic butter for later.
Stuff the Bread Slices with Mozzarella Cheese
This is how it gets the name Cheesy Stuffed Garlic Bread! You simply open up each slice of the bread, where you just added the garlic butter and insert a slice of mozzarella cheese!
The cheese will melt down in the oven and get so ooey gooey and cheesy! I've found this to be the easiest way to stuff garlic bread with cheese – PLUS, it already preps individual slices to eat so it's easy to pull apart the garlic bread when it's baked to golden brown perfection.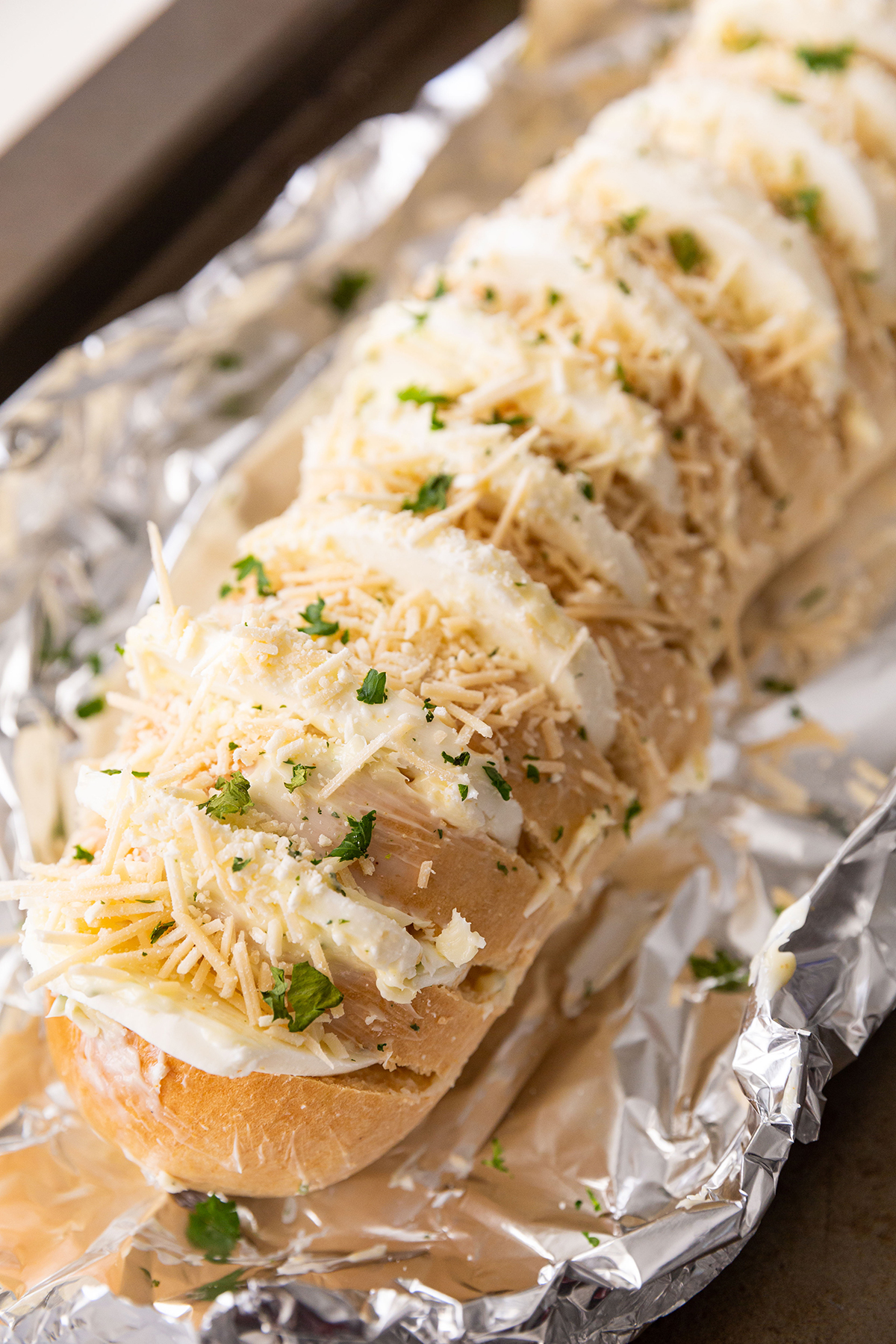 Add Garlic Butter and Parmesan Cheese on Top
Spread the remaining garlic butter on top of the mozzarella stuffed bread loaf. Really slather it on!
Next, sprinkle the grated or shredded parmesan cheese on top. I also like to add a bit more chopped parsley for color, but this step is totally optional.
Bake Cheese Stuffed Garlic Bread
Bake at 375 degrees F for 25 to 30 minutes or until mozzarella has melted and bread loaf is golden brown in color.
LOOK at that melty Cheesy Stuffed Garlic Bread! Perfect golden brown color and filled with cheese at every inch. It's also already pre-sliced into the perfect portions for easy grabbing and enjoying!
What to Serve with Cheesy Stuffed Garlic Bread
Well, serve it right on its own – as is – for an easy appetizer for game nights, movie nights, watch parties, you name it!
I'd suggest a dipping sauce of marinara or even ranch dressing! It doesn't have to have a dip or sauce, but it makes a fun addition!
If you want some ideas to serve alongside your cheesy garlic bread for a larger appetizer spread, here are a few of my favorites!
As mentioned above, this stuffed garlic bread is also perfect as a side for any Italian meal!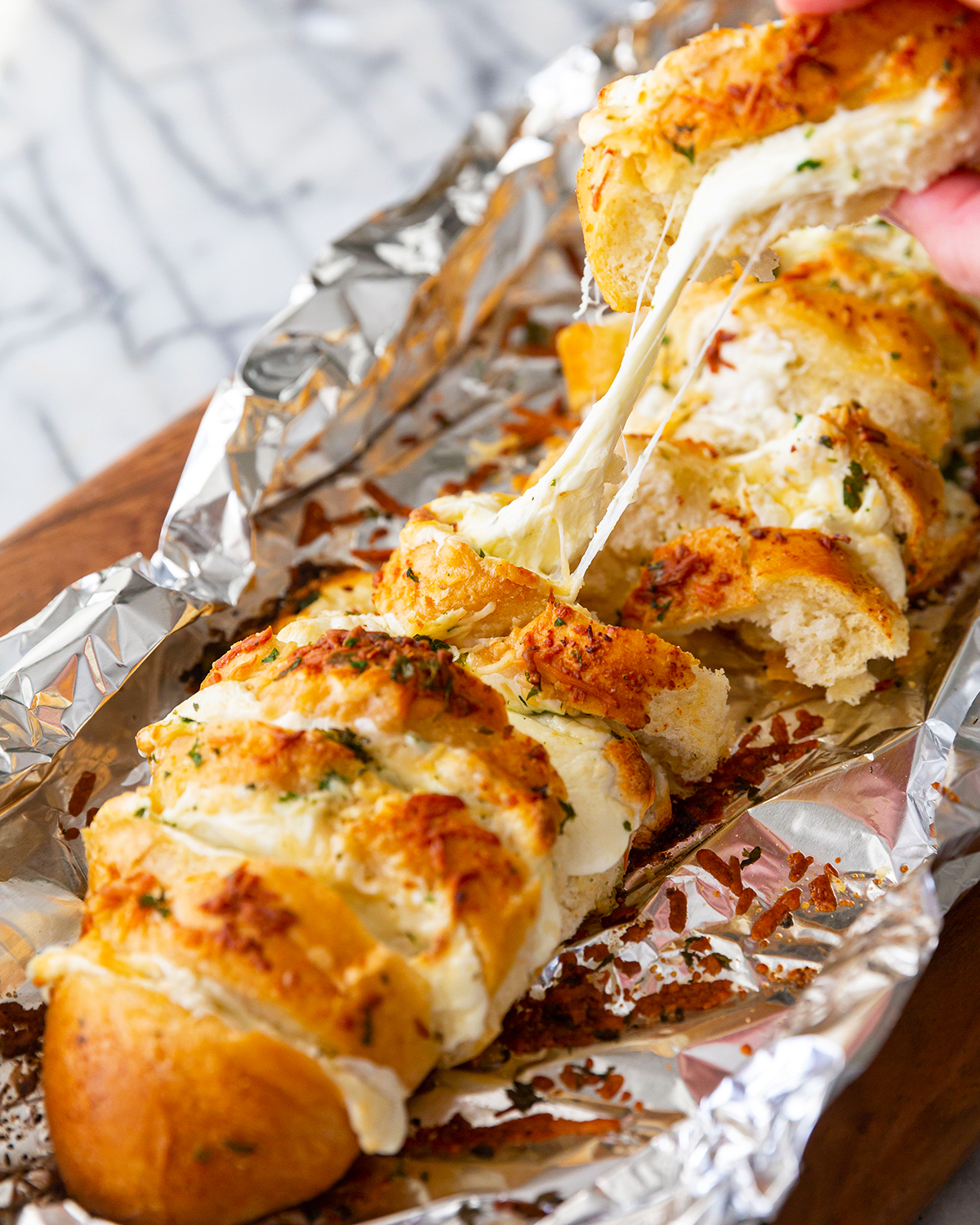 FAQs
Can you use melted butter?
You can! Just mix in the garlic powder and chopped parsley and pour or drizzle it onto the bread loaf. I just find the softened butter a bit better because none of it pours off.
Can you reheat cheese stuffed garlic bread?
Absolutely! Just wrap it in aluminum foil, refrigerate and then warm at 300 degrees for 15 minutes to reheat.
Can I prep this ahead of time?
Yes! Just make it to the point right before baking and store it, wrapped tightly, in the refrigerator until ready to bake.
Can I switch up the cheeses and seasonings?
Absolutely! Make different vanities of herb butters, add jalapeno pieces or chili flakes on top for some heat or use different cheeses for a change – like cheddar, white cheddar or provolone cheese!
I hope you enjoy this cheese stuffed garlic bread, it's such a delicious twist on the classic!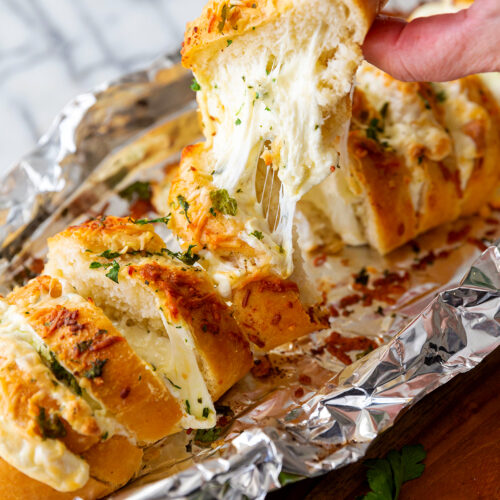 Cheesy Stuffed Garlic Bread
Stuffed with mozzarella cheese at every slice, this Cheesy Stuffed Garlic Bread is a delicious appetizer or dinner side dish!
Ingredients
1

loaf

Bread

(like French, Italian or Sourdough)

1/2

cup

butter

softened

1

tbsp

extra virgin olive oil

2

tsp

garlic powder

1

tsp

parsley

chopped

8

ounces

mozzarella cheese

sliced

1/3

cup

parmesan cheese

shredded or grated
Instructions
Preheat the oven to 375° F. and line a baking sheet with a slice of aluminum foil.

Using a serrated knife, slice the bread loaf into even slices. Don't cut the bread loaf all the way through, however.

In a small bowl, make the garlic butter by stirring together the softened butter, extra virgin olive oil, garlic powder and chopped parsley until spreadable.

Using a knife, spread garlic butter down into each slice on the bread loaf, reserving about half for later.

Stuff a slice of mozzarella cheese down into each sliced opening of the bread loaf.

Spread remaining garlic butter all over the top of the bread loaf.

Sprinkle the top with parmesan cheese.

Bake for 25 to 30 minutes, until cheese is melted and bread is golden brown.

Remove from oven and enjoy!
Calories:
151
kcal
Carbohydrates:
16
g
Protein:
8
g
Fat:
6
g
Saturated Fat:
3
g
Polyunsaturated Fat:
1
g
Monounsaturated Fat:
2
g
Cholesterol:
15
mg
Sodium:
321
mg
Potassium:
65
mg
Fiber:
1
g
Sugar:
2
g
Vitamin A:
143
IU
Vitamin C:
1
mg
Calcium:
135
mg
Iron:
1
mg